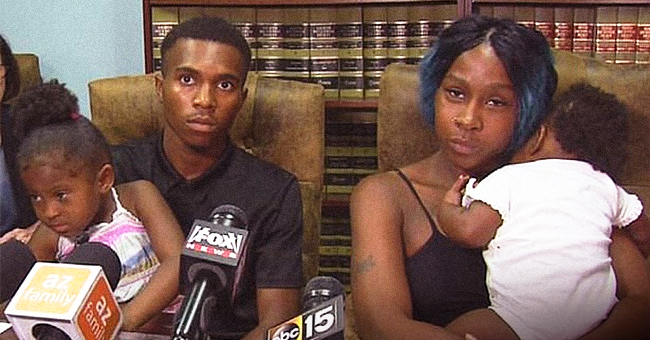 Twitter/THEAlleyeceeing
Phoenix Police Chief Apologizes after Cops Pulled Guns on Family over 'Stolen' Doll
The police department in Phoenix, Arizona apologized to the black family their officers threatened to shoot after their daughter stole a $1 doll, but the case didn't end there.
Jeri Williams, the police chief of the Arizona Police Department, has issued a public press statement apologizing to two African-American parents, Dravon Ames and Iesha Harper after officers threatened to shoot them.
The police officers made the threat while arresting the couple in front of their 4-year-old daughter who allegedly stole a $1 doll, and her 1-year-old sister. The incident got videoed by bystanders, and in it, the policemen were heard shouting obscenities at the couple while pointing guns at them.
Williams denounced the actions of the officers, saying it does not speak to the training they had, and under no circumstances should they have acted the way they did.
The police chief also said that the act by the officers painted the entire Phoenix department in a bad light, and an internal investigation was ongoing to determine the liability of the officers.Despite the apology, the police insist that Ames and Harper stole from the $1 store, but the couple told a different story in their complaints and court case filed against the city.
In it, the parents-of-two stated that they got pulled over by the police who handled them roughly while putting them in handcuffs. They agreed that their daughter stole the doll, but they didn't realize it until they were driving to the babysitter's place.
The police officers in their account stated that they were responding to a 911 call for shoplifting at the store when they noticed Harper and a woman later identified as her aunt leave the store without paying.
They chased them until the couple pulled over at a building's parking lot after dropping off the aunt along the way. The police officers denied using any force on Ames and Harper except when they resisted arrest, but the video showed otherwise. The police found the doll when they searched the couple's car, but they did not discover any other item.
Ames and Harper are suing for $10 million through their counsel, Tom Horne, and the father-of-two said he was scared for himself and his children when the policemen pointed their guns at them. The incident which took place in late May got a lot of attention on the internet, and rap superstar, Jay-Z's Roc Nation is also helping the couple get justice.
Diana Diaz, the Managing Director, of the entertainment company, frowned at the act by the police and promised to fight with the family to the end.
The stolen item got returned to the store, and they are not pressing charges against Ames and Harper.
Please fill in your e-mail so we can share with you our top stories!