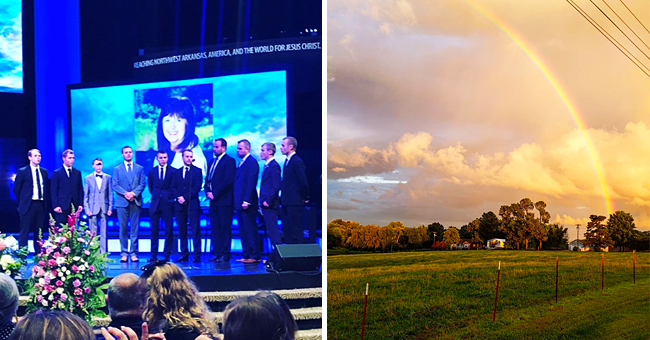 instagram.com/jillmdillard / instagram.com/amyrachelleking
Grandma Duggar's Funeral Was Blessed with a Beautiful Rainbow
The "Counting On" reality television show's Grandma died in tragic circumstances following an accidental pool drowning. However, her funeral reminded members of her family of God's faithfulness as they witnessed a beautiful rainbow.
Fans of the reality television show were left saddened with last week's announcement of the death of Mary Duggar in tragic circumstances. Grandma Duggar accidentally drowned in her swimming pool and was buried on June 17.
Her funeral ceremony brought members of her extended family together as they paid their last respects to her.
A SIGN OF GOD'S FAITHFULNESS
Though Mary Duggar has passed on, her legacies remain with members of her family, and they were left with a sign from above on the day of her death and burial.
Amy Duggar King shared a post on her Instagram page with a picture of a rainbow. In the post, she remarked that there was a rainbow on the day Grandma Duggar passed on; now as she stood in front on the day of her funeral, there was another rainbow.
She then explained that Grandma Duggar always said rainbows were a sign of God's faithfulness, and thus the rainbow was a pleasant sight to see.
In a similar post, Jill Dillard shared images from the day of the funeral and also paid tribute to her late grandma. Some of the pictures showed members of the family as Grandma Duggar's pallbearers while others showed the image of the rainbow.
The rainbow seemed to fill the family with hope and belief that Grandma was in heaven with Jesus Christ; she spent most of her life teaching and talking about Him.
AMY SHARES PHOTOS FROM GRANDMA MARY'S CLOSET
Grandma Mary's memories would never depart from members of her family. In the aftermath of her death, Amy Duggar posted emotional videos of herself sorting through her late Grandma's closet. At the end of her post, she thanked everyone for their prayers.
FANS MOURN WITH THE FAMILY
Many fans of the TLC reality show, "Counting On," which Grandma Duggar was part of also commiserated with the family. They remarked that they grew up watching her on their television screens and were all sad she had left the world.
Other fans, however, chastised Jill for sharing pictures of the funeral on her Instagram. They questioned the thought behind her posting the gravesite moments, which they felt should be kept private.
Please fill in your e-mail so we can share with you our top stories!