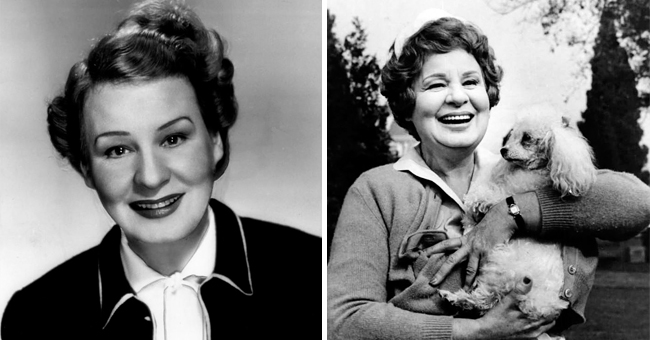 Source: Wikipedia / Wikimedia
Last Years of the 'Devoted to Privacy' Star Shirley Booth
Shirley Booth became one of the most versatile actresses of her era. While she enjoyed a successful career in front of the camera, Shirley chose a different life during her final years.
The celebrated actress reached the ripe age of 94 before she passed away in her North Chatham home on October 16, 1992.
She had moved to the Cape Cod village after she retired from acting in 1974, where she indulged in painting, needlework, and the seclusion it offered. Shirley kept in contact with her friends via telephone, but apart from that, she maintained a distance from the media while her two cats and poodle kept her company.
Even when Shirley got inducted into the American Theatre Hall of Fame in November 1979, she stayed home while Celeste Holm accepted the award on her behalf. "I'm devoted to privacy," she told the Sarasota Herald. "You give so much energy on the stage you need time to recharge."
Her health started declining during the 1980s when she reportedly suffered a stroke. A broken hip in 1991 then further inhibited her mobility. Survived by only her sister, Jean Coe, Shirley had no children despite having been married twice.
The actress first married Ed Gardner on November 23, 1929, and later divorced after 12 years of marriage. By the time Shirley married Ed, she had already established herself as an actress.
The 1921 thriller, "The Cat and the Canary" marked Shirley's first professional onscreen appearance while her Broadway debut followed in "Hell's Bells" in 1925, alongside Humphrey Bogart. In 1939, Shirley starred with Audrey Hepburn on Broadway in "The Philadelphia Story," and they became friends.
A year after Shirley divorced Ed, she married William H. Baker Jr., a United States Army corporal who died from heart disease in 1951. She never re-married and focused her attention on her career.
Her most recognized role came soon after William's death in "Come Back, Little Sheba." She captivated audiences as the clingy housewife Lola Delaney for which she received an Academy Award, an Oscar, a Tony, BAFTA, and New York Film Critics award.
On television screens, Shirley got known to fans of "Hazel" as the housekeeper who ran the Baxter household with unmatched and vocal efficiency. The show ran from 1961 until 1966, while Shirley's portrayal of Hazel earned her two Emmy awards.
During her career, Shirley played a variety of characters and preferred it that way as she said, "I'm lucky. I play characters, not types. I don't care what the part is as long as it's a person I'm interested in, someone I want to introduce to people."
After "Hazel" ended, CBS Network expressed interest in picking up the show. The original cast members were keen since the show's end left them jobless, and so Shirley agreed to finance the endeavor.
By the time paperwork got finalized, some cast members had found other work, so the new sitcom had carried on without them, but with Shirley as the star of the show, the show failed after health issues forced Shirley to stop acting.
Shirley's dear friend, Audrey Hepburn passed away the year after Shirley in 1993. While many stories of the iconic actress had been told, a lesser known one, perhaps, would be of how Audrey Hepburn survived the Second World War and the devastating starvation.
Please fill in your e-mail so we can share with you our top stories!