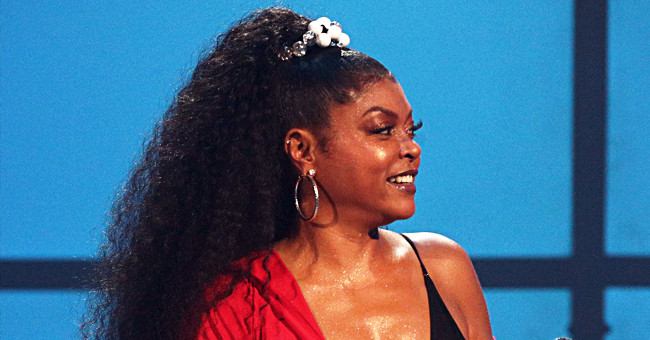 Getty images
See Taraji P. Henson and Regina Hall Twerk on 2019 BET Awards Stage
"Empire" actress Taraji P. Henson showed off some serious moves at the 2019 BET Awards.
Actress Taraji P. Henson at the was at the 2019 BET Awards ceremony as a nominee for Best Actress, and she ended up stealing the show with her sassy dance moves.
TARAJI P. HENSON SIZZLED ALONGSIDE REGINA HALL
Henson took to the stage alongside host Regina Hall and musician Sugar Bear of the group E.U. dance up a storm to sound of "Da Butt" and "Run Joe."
The Empire star twerked and boogied down in a black unitard and a red long-sleeved jacket, Her long hair was swept up into a ponytail and she wore large dramatic earrings.
STANDING UP FOR GO-GO
The dance was a protest in support of #DontMuteDC, a campaign against gentrification in the Washington D.C. that began after a local store was asked to shut off its go-go music as "inappropriate."
Hanson and Hall's performance had the audience on its feet and boogying along, and John Legend and Mary J. Blige were seen getting down with the best of them.rd.
TARAJI P. HENSON HONORS TYLER PERRY
Henson also took to the stage to honor director and playwright Tyler Perry with the Ultimate Icon Award. Hanson credited Perry for recognizing her talent, and for paying her a just salary for her work.
"He isn't solely about representing us on screen. He does so in a major way behind the scenes. In a time when my counterparts were making way more money than I was … Tyler Perry was the first to pay me my worth. Giving me my first real quote in Hollywood. A black man did that. And that means the world to me, and I'll never forget that," she said.
NOMINEE FOR BEST ACTRESS
Henson was nominated for the Best Actress Award alongside Issa Rae, Regina Hall, Regina King,Tiffany Haddish, and Viola Davis.
She ended up yielding the laurels to Regina King, who had already won an Academy Award for her role in "If Beale Street Could Talk."
Henson also met Cardi B, who is a longtime fan of the actress and whom she has often impersonated. Cardi B won the Best Female Hip Hop Artist Award.
TARAJI P. HENSON's GORGEOUS SON
Actress Taraji P. Henson is the proud mom of a 24-year-old son, Marcel, who looks set to follow his mom's footsteps into showbiz.
The actress, who shared Marcel with high school sweetheart William Lamar Johnson, fell pregnant in college and took on the challenge of being a full-time mom and student.
After graduating, Henson went to LA to pursue her dream of acting and took her baby son along even though her father had asked her to leave Marcel at home.
Henson and Marcel are particularly close, especially since he lost his father to violence. Marcel has overcome his trauma, and has taken up modeling and walked the runaway on the New York Fashion Week. We look forward to seeing him on the screen with his talented mom.
Please fill in your e-mail so we can share with you our top stories!