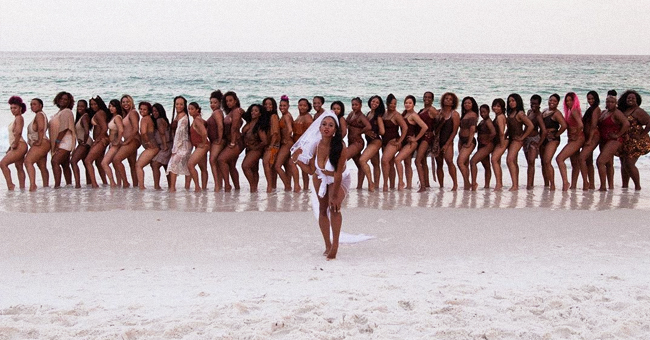 Instagram/iamcasme/
New Orleans Bride Had 34 Bridesmaids at Wedding - She Originally Wanted 50
A bride from New Orleans had her dream beach wedding in Destin, Florida a few weeks ago, and she had everything she needed at hand: the love of her life, her family, and 34 handpicked bridesmaids by her side.
Casme Carter and her husband Gary met at Thanksgiving community dinner and got engaged during a road trip. They decided to get married three months after he popped the question, and although it might seem rushed for some people, Carter had been planning the wedding of her dreams even before meeting her groom.
The 38-year-old New Orleans-based singer knew she wanted a beach wedding, and she also knew she wanted to share the special moment with some of the most important women in her life.
As a performer and avid participant of women empowerment groups, she knows a lot of special ladies.
Carter originally wanted to have 50 bridesmaids in her bridal party, but some couldn't make it, so she ended up with only 34. Six of them are her biological sisters. The rest is a varied group that has women from Atlanta, Nashville, and other cities, with different professions that go from performers to lawyers.
"Every woman was handpicked because they have blessed my life at one period and time. They all knew my desire for love and being loved by the right man," she told Essence.
"I traveled for 18 years as a singer and made incredible friends along the way. I felt so loved and blessed to have them by my side," Carter added in another interview with TODAY.
When asked how did her husband felt about having so many bridesmaids at the ceremony, Casme says Gary thought she was joking at first. "But then he was like, 'If anybody can do it.' He knows how I am and how many women are around me," she added.
Casme wanted to keep things simple for everyone involved, and she also wanted the number of bridesmaids to be a surprise for her friends.
So, she split the women into different groups to discuss the details of the wedding and asked everyone the same: to wear a neutral tone dress for the sunrise nuptials. Some of them wore dresses they already owned, and others bought a $25 design that Carter found on Amazon.
"When they saw everybody they were like, 'Oh my God, Casme. This is so awesome!'" she told CNN. "Their time and their presence was a gift to me, just being there."
The wedding ceremony went on without a hitch, and when asked about the odd hour for the nuptials, Carter explained that she and Gary had been celibate for their entire relationship.
"So I thought, 'let's do the wedding early before the heavens and the earth, then go get it on and come back later for the sunset reception," she said.
Casme's story went viral after Essence made an article about it, and now, Casme will also be performing at the 25th Essence Festival in New Orleans next month.
Double congratulations for the new bride!
Please fill in your e-mail so we can share with you our top stories!