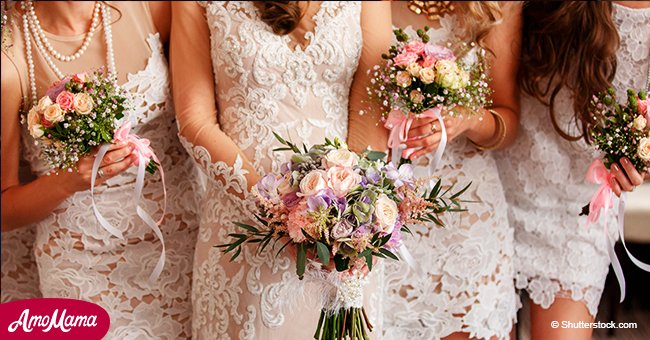 Bride invites bridesmaids and family to wear their wedding gowns to nuptials

A bride, known as Audrey Moore has broken the norm by asking her female guests to attend her wedding in their old wedding dresses.
While an odd or instead, unconventional style of wedding ceremonies has been the trend for a while; another bride has come up with a very much unique idea.
Audrey, best known for her role in Better Call Saul completely left the old regular rules during her marriage in December. The celebrity wedding had guests; 120 of them wear a costume or don a wedding dress as the bride would.
According to her husband, Jesse Lumen;
"we thought it was sad that most women only get to wear their wedding dress once, so we invited all the women coming to our non-traditional wedding to wear their old wedding dresses again!"
The couple also asked the groomsmen to wear matching tuxedo-style sweatshirts. The celebration did look beautiful as all her bridesmaid turned up in wedding dresses; even the ones who had never gotten married showed up in their parents' or relatives' old wedding gowns.
Moore seemed to be an incredibly selfless person; such an act is almost impossible to see in a world where the bride wants to be the center of attention solely. She later revealed some friends were nervous they would outshine her.
The Californian bride didn't share their anxiety; she was cool with sharing the spotlight. Well, guess who got the spotlight that day? The bride of the day!
She pulled a stunner on everyone when she showed up in a gorgeous blue off-shoulder dress. No one could outshine such beauty! While Audrey and Jesse got a lot of accolades for their wedding idea, another couple is under social media attack after crowdfunding for their upcoming wedding.
The couple, Natalie Borg and Richard McMurray realized that their budget was $5,800 short their planned wedding. They, therefore, opened a GoFundMe page and solicited financial aid to achieve their dream ceremony. While the plan has yielded them $1,477, their plea for assistance sparked loads of criticism from social media users who wasted no time expressing their displeasure at such "money-grabbing" act.
Borg, however, stepped out to defend herself and her fiancé, denying all accusations of "money-grabbing" while explaining that they had to turn to the crowd for help as a last resort to getting the wedding of their dreams.
She also revealed they had both done all they could to save up for their big day; which includes the couple selling some of their belongings and taking as many extra shifts as possible!
Please fill in your e-mail so we can share with you our top stories!