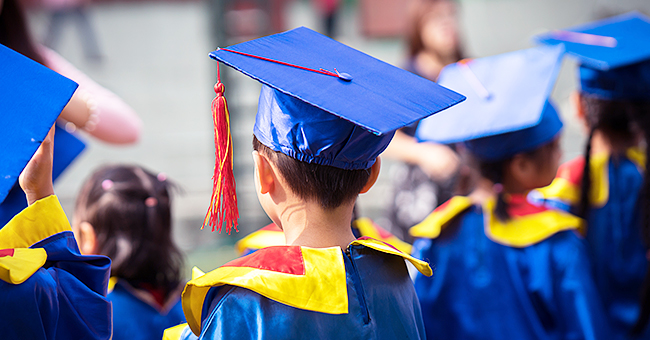 shutterstock.com
'Heartwarming' Pic of Little Boy Crying with Happiness at Sister's Pre-K Graduation Goes Viral
On Friday, a Connecticut parent took to Instagram to share the bond her two children had. The adorable photo of the two siblings hugging and crying has since gone viral on social media.
Aundrea Tabbs Smith celebrated her daughter's preschool graduation by sharing a beautiful image of her children hugging and crying with joy. In the Instagram photo, Smith's son Derek, 8, could be seen embracing his younger sister, Charlee, 5, as they honored the occasion.
Both children are pictured crying in each other's arms. The image has since gone viral with over 21 000 likes on Instagram.
In the caption of the picture, Smith explained that her older child had walked up to his little sister after the ceremony and gave her a hug. His reason for doing so was because he was "just so proud" of her.
"They love each other."
That's when little Charlee started crying and her brother followed suit. Smith shared that she and her husband, Matthew, also couldn't help but wipe away tears as they were touched by the moment.
Matthew asked the little girl: "Pumpkin, why are you crying?" and she responded, "I'm just so happy." Smith added to the post that they were blessed and encouraged others to contact people who were blessings in their lives and "let them know how much they mean to you."
The couple planned on framing the picture and displaying it in their living room. Smith said: "It was such a great moment for us seeing him so moved and happy."
She shared that the moment made her realize that their parenting was "not doing so bad!" because their children "love each other." Smith also revealed that the two siblings had an adorable relationship.
She shared that little Charlee basically lived for her older brother's approval. The little girl "admires him so much," and clearly looks up to him.
Charlee's mother revealed that when they're home the 5-year-old follows her brother around and "wants to do everything he does."
In May 2018, Tori Roach, now-19, took to Twitter to celebrate her graduation from Huntsville High School in Texas. In the same post, she honored her 37-year-old by recreating a throwback photo.
Side-by-side she added a picture of her father graduating while wearing a green cap and gown and in his arms was little Tori. Next to that image was her graduation but this time she was obviously much older but still perched in her father's arms.
Please fill in your e-mail so we can share with you our top stories!