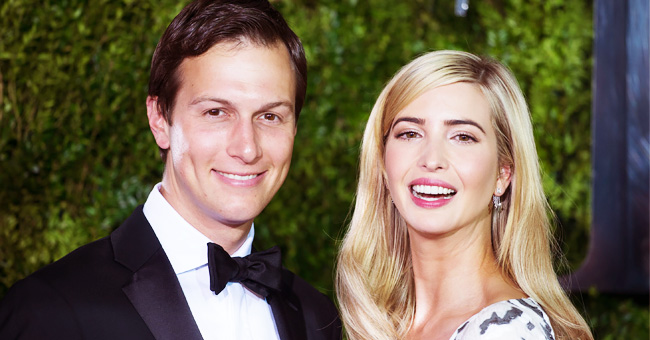 Getty Images
People Wonder If Ivanka Trump Attended Karlie Kloss and Joshua Kushner's Wedding Reception
Ivanka Trump and Jared Kushner rubbed elbows with Hollywood's biggest celebrities during Karlie Kloss and Joshua Kushner's wedding reception over the weekend, but a source in attendance claims otherwise.
After Joshua Kushner and Karlie Kloss tied the knot last October, they decided to have another wedding celebration that accommodated a larger crowd with more of their A-lister friends. Kushner's brother, Jared, was believed to have attended with Ivanka Trump.
WEDDING PARTY
The first daughter posted an Instagram story on Sunday of her and Jared looking into the distance in a similar location as that of which the other guests posted. However, a source who attended the party claims the couple only dropped by on Thursday night, before the actual three-day party began.
While the picture showed Jared with his arms around Trump before a scenic background, which other guests posted, he also wore a baseball cap on his head, which could mean the photo was taken elsewhere.
Photos were posted on Instagram to show glimpses of the western-themed celebration and the beautiful sunset outside Bush Creek Ranch, which was a crowd favorite photo spot.
The weekend-long festivities had many guests in attendance, including Katy Perry, Orlando Bloom, Mila Kunis, and Ashton Kutcher, which meant Trump was with people who are critical about her father.
SENIOR ADVISERS
Jared and Trump, senior aides of Donald, are promoting the administration's plan to advocate and assist peace between Israel and Palestine. A "Peace to Prosperity" event will begin on Tuesday where Jared is set to discuss the proposal.
"We want to get feedback and hopefully finalize it so we can then coordinate a lot of the aid efforts and investing efforts to really drive the results," Jared told Reuters. "I laugh when they attack this as the 'Deal of the Century.' This is going to be 'Opportunity of the Century' if they have the courage to pursue it."
'KUSHNER, INC.'
The couple, being White House advisers influence many things that govern the presidential household. In her book, "Kushner, Inc.," Vicky Ward brings light to the motive behind the couple's decision -- to enrich their families and themselves.
She feels that the two senior aides are dangerous, especially Jared's involvement in the legislation's foreign policy to have a peace agreement in the Middle East.
"It's sad, but not surprising, the media will spend time promoting a book based on shady anonymous sources and false information, instead of all the incredible work that Jared and Ivanka are doing for the country," Sarah Sanders said.
Please fill in your e-mail so we can share with you our top stories!