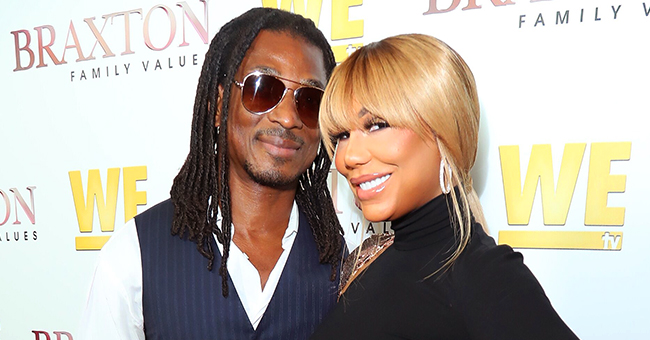 Getty Images
Tamar Braxton Says David Can 'Put a Ring on It' as They Celebrate 'Baecation' Anniversary

Tamar Braxton is ready to give marriage a second chance, this time with her boyfriend of one year, David Adefeso.
"So I guess now, If u like it then [you] should go and put a ring on it."
That's exactly how Tamar Braxton feels now that she's been with David Adefeso for a year, especially since she's officially divorced from her ex-husband, Vincent Herbert.
A Happy "Baeversary"
Tamar Braxton wished her boyfriend a happy anniversary, and along the lines, she hinted that she was ready to tie the knot.
"MY @david.adefeso……? Do you remember our first Baecation??? Well, it's been a complete year today since the day that we locked eyes at that bday dinner and felt the "magic." I'm so grateful that every day we still feel that same way."
Braxton also shared just how compatible they are with one another, and how much fun they share together.
"The fun we have together is endless & I'm glad that we can finally be Free. We have proven that Together we can work through the toughest and the sometimes most embarrassing times well, babe, One down 99 to goI'm so excited about our future!!So I guess now, If u like it then u should go and put a ring on it" how about that?thank u for the love I feel #happyanniversaryYemi."
David's Lovely Response
Of course, David made sure to reply to his lovely girlfriend's post. While he didn't outright say that he'd marry her soon, he agreed that they were meant for one another.
"But through it all one thing remains clear….that warm summer evening 12 months ago when I first laid eyes on you I knew you were made for me, and I was made for you.. I love you more today than ever. Happy Anniversary my @tamarbraxton. 1 down, 99 to go. Mwaaah!!"
In one part of his post, Adefeso also shared that the two of them do everything together, even fight. In fact, a couple of months ago, they were rumored to have broken up. However, after saying she was at the time single and ready to mingle, they soon made up and began posting about one another again.
Kiss and Make Up
People were shocked about the sudden split between Tamar and her Nigerian boyfriend, but it turns out they were able to patch things up right away after a fight. The two of them looked absolutely smitten by one another, talking things through.
"I be mad, mad but not too long at this one. [He's] way too fine for that. #forever&everbruh #D&T I'm EXTRARXTRA.com #helikesittho."
Now that it seems they're in it for the long run, fans are giving it time before they tie the knot. After all, she just got out of her previous marriage.
Please fill in your e-mail so we can share with you our top stories!