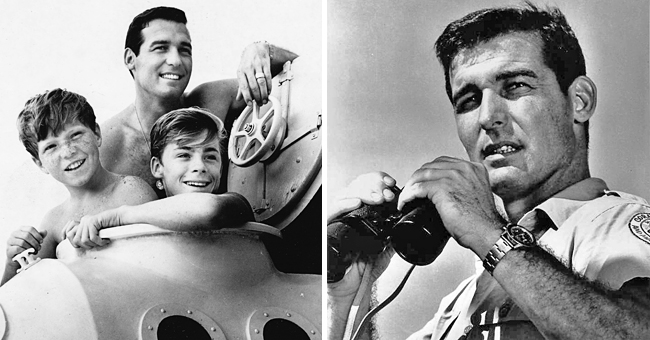 Source: Wikimedia
Life and Death of Brian Kelly Who Was Best Known as the Widowed Dad-of-Two from 'Flipper'
Brian Kelly's had a short but successful acting career, a time he cherished as the principled father, Porter Ricks in the popular NBC series during the 1960s, "Flipper."
Born in Detroit on February 14, 1931, Brian served the Marines during the Korean War and attended a year of law school at the University of Michigan, before he decided to pursue an acting career.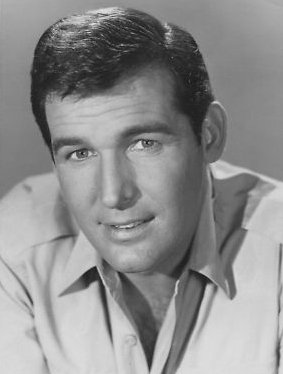 Brian Kelly in 1966. | Source: Wikimedia Commons.
A talent agent spotted Brian during the late 1950s and landed his first notable role in the 1959 police drama series, "21 Beacon Street."
Next, Brian starred in "Straightway" as the racing car designer named Scott Ross, who co-owned a garage with a mechanic from 1961 until 1962.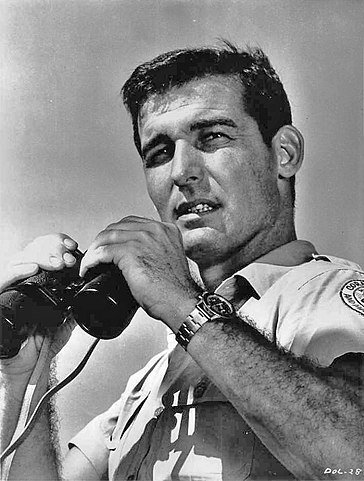 Brian Kelly in 1964/ | Source: Wikimedia Commons.
Brian met the actress Laura Devon and married the gorgeous blonde on June 23, 1962, but their union only lasted four years.
A year into their marriage, Brian made his film debut in the feature film "Thunder Island," co-written by actor Jack Nicholson. His casting as the ranger at Coral Key Park's marine reserve in Florida in "Flipper" soon followed in 1964.
The series, which got filmed in Nassau, the Bahamas, and Miami and famously starred the dolphin who helped keep trouble at bay.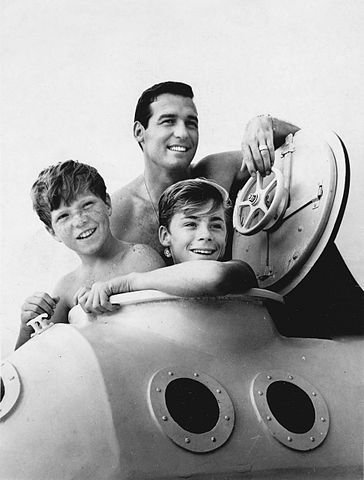 Brian Kelly, Luke Halpin and Tommy Norden promoting the television series Flipper. | Source: Wikimedia Commons.
The actor remained fond of his time on "Flipper" mostly due to his character who portrayed "a parent who gives his kids principles and talks to them about the real values in life."
Another aquatic role followed in the 1966 film "Around the World Under the Sea," but a severe injury after a motorcycle accident in 1970 cut his acting career short.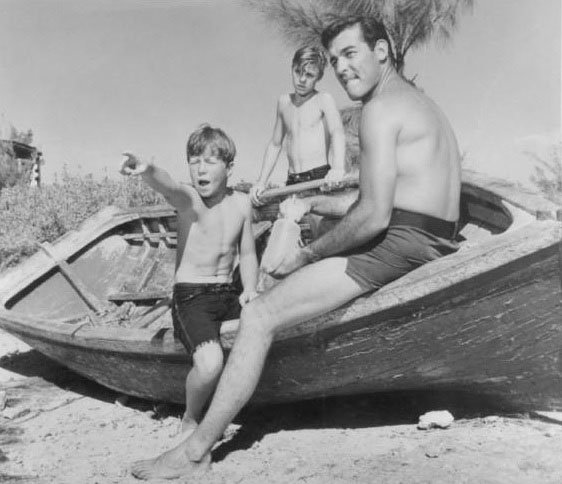 Tommy Norden, Luke Halpin, and Brian Kelly in "Flipper" in 1964. | Source: Wikimedia Commons.
The accident left his right arm and leg paralyzed and won $750,000 in a legal settlement after that, which he used to finance the films he wanted to produce.
The money went toward the building of houses, while their profits after being sold went into his new endeavor. His most significant success came when he bought the rights to "Do Androids Dream of Electric Sheep," a 1968 science-fiction novel by Philip K. Dick.
Brian then gave the film option to actor Hampton Fancher, who turned it into the screenplay that became the 1982 film, "Blade Runner" executively produced by Ridley Scott.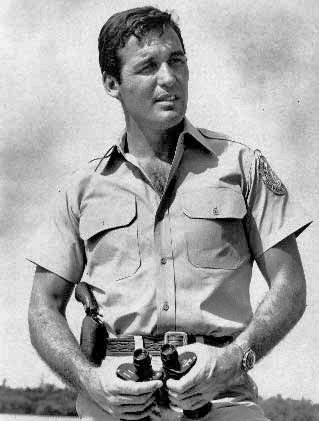 Brian Kelly in 1965. | Source: Wikimedia Commons.
The actor found love again in 1972 and married Valerie Ann Romero, with whom he shared a daughter Hallie, born in 1975, and a son Devin, born in 1980.
The 1973 film, "Drive Hard, Drive Fast" became Brian's last onscreen appearance during a career that spanned just over a decade for a total of fifteen acting credits.
Sadly, a few days before Brian's 74th birthday in 2005 on February 12, he died of pneumonia in Voorhees, New Jersey.
The beloved series, "Flipper" had a brief revival in the 1990s when new versions hit televisions screens and cinemas starring Jessica Alba and Elijah Wood, respectively.
Mostly female dolphins got used during the filming of "Flipper" as females are said to be less aggressive than males. Facial scars males pick up from altercations with other dolphins are also less appealing on camera, but they did use a male dolphin for one iconic scene in particular.
A veteran male dolphin from the movie, "Mr. Gipper," performed the happy "tail walk" stunt. Since dolphins are known to be intelligent creatures, it didn't altogether come as a surprise when scientists made a surprising discovery.
After being released from captivity at a dolphinarium in Australia, Billie started teaching wild dolphins how to do the "tail walk" and other tricks she learned.
Please fill in your e-mail so we can share with you our top stories!