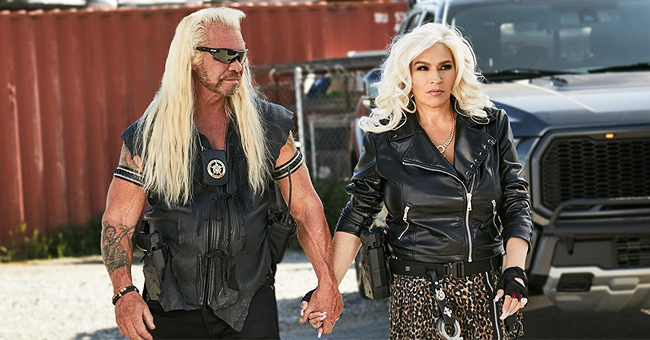 twitter.com/wgnamerica
Beth Chapman Called Duane 'Dog' for the First Time While Asking Him to Do Her Memorial 'Right'
Beth Chapman was recently honored and remembered during a very special and beautiful memorial in Hawaii and her husband revealed that it was all her idea.
According to Duane "Dog" Chapman, his wife asked him for a Hawaiian-style ceremony and the family followed through with her request.
The 66-year-old bounty hunter shared that she did so while calling him by his nickname for the very first time in over 30 years, something that he had been wanting to hear for so long.
CELEBRATING BETH'S LIFE
During the memorial, which took place on Saturday, June 29, at Fort DeRussy Beach, in Waikiki, Dog paid his respects to his wife and delivered an emotional speech.
He said:
"After my mom died, I said well, 'My mom is in the Earth'... In my tribe, we believe she becomes part of the Earth, the sea, the sky and the rain. Beth is going to be placed here too, she got here before I did, it's my island."
FANS DIDN'T MISS THE CHANCE TO BE THERE FOR BETH
The memorial was open to the public and the Chapman family encouraged Beth's fans to show up and pay their respects to the late 51-year-old. They did not disappoint.
Dozens and dozens of people, complete strangers, made sure to say goodbye to Beth, who passed away on Wednesday after a fierce battle with a stage II throat cancer.
A TRADITIONAL HAWAIIAN MEMORIAL
Seeing so many people come together to honor his wife made Dog very happy and he took the opportunity to say how much he appreciated their presence there.
Beth was cremated, as per her final wishes, and the memorial service included traditional chants, prayers and even a paddle out with family and friends.
Those who attended the gathering were advised not to bring leis, as the strings could be harmful to the ocean wildlife and the flowers had to be loose and ocean-friendly.
According to Duane "Dog" Chapman, his wife asked him for a Hawaiian-style ceremony
Dog has recently announced that a second memorial is scheduled to take place on July 13 in Denver, Colorado, but no further details have been revealed.
Please fill in your e-mail so we can share with you our top stories!