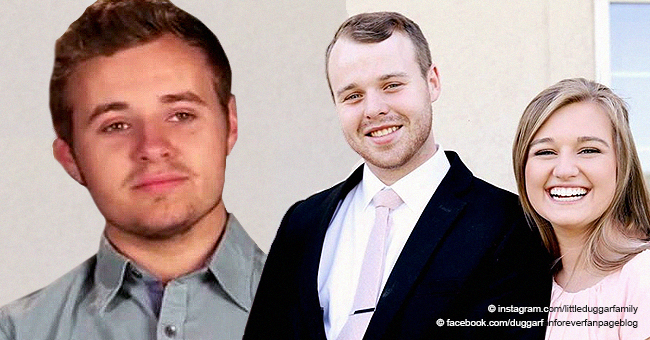 Jedidiah Duggar's Life and Alleged Failed Courtship with His Brother's Wife
"Counting On" fans know that most of the times that a member of the Duggar family starts courting someone, they end up getting married soon later. However, Jedidiah Duggar's case might be different.
Jedidiah was born on December 30, 1998. He has a twin brother, Jeremiah, who was delivered a few minutes after Jedidiah. Like most of his siblings, he was homeschooled and got his GED with Jeremiah and Joy-Anna in 2016.
"[Jedidiah] couldn't get Kendra so he'd probably go after her younger sister," wrote a Reddit user.
JEDIDIAH AND JEREMIAH DUGGAR NOW
Those fans who have not seen the twins lately might get surprised for how much they have grown. Even Jinger Vuolo, their older sister, admitted so in a post she uploaded to her Instagram Stories in January this year.
According to In Touch Weekly, it was a screenshot of a FaceTime call she and the twins made for their birthday. The 25-year-old mother of one wrote in the post, "How are they 20 already?"
So far, Jedidiah, also known as Jed, is not involved in a relationship with anyone. However, he reportedly dated Kendra Caldwell, Joshua Duggar's wife, before they tied the knot.
THE DUGGAR RELIGION
Apart from having more children than any typical family, Jim Bob and Michelle Duggar are famous for the way they have raised their 19 children: with strict rules that some people might find out of the ordinary and even annoying.
All those rules are the result of their strong religious beliefs as they are Independent Baptist. According to Grace Baptist Church, Independent Baptists believe that:
"The Bible is our sole authority for all matters of faith and practice. The church should be autonomous or self-governing. The believer does not need a priest, other than Jesus Christ, to come boldly to God."
DUGGAR COURTSHIP
Among the many rules they follow, the way they choose their partners is the one that has captured more attention. Due to their conservative beliefs, the Duggars don't date, they court.
In most cases, the patriarch is the one who chooses the man who would enter into a courtship with one of his daughters and, after spending some time knowing each other, they would tie the knot and start having children.
JEDIDIAH AND KENDRA REPORTED ROMANCE
According to Hollywood Gossip, that was the plan with Jedidiah and Kendra, who was born only four months before him.
They supposedly dated in the summer of 2017 and, since they are the same age, people considered that their relationship would have been better if compared to Joseph, who is almost four years older than both of them.
As a source who used to work for the Duggars claimed, Joshua intervened in their alleged relationship and "bump [Jedidiah] out" when he and Kendra were at the early stages of their courtship.
That event reportedly damaged the relationship between the brothers, but things improved after Jed wrote a letter giving Joe his blessings to pursue a relationship with Kendra.
JIM BOB INTERVENED?
Since any member of the Duggars or the Caldwells has confirmed or denied the allegations, it is impossible to know for sure what happened, why Jedidiah moved on, and, especially, how he felt about Kendra and Joseph Duggar's wedding.
However, some theories suggest that it's all Jim Bob's plan. As a way to avoid public scrutiny over the topic, the patriarch might have considered that, since Jedidiah was younger, he would have more time to find the right match for him.
JEDIDIAH IS ALLEGEDLY DATING KENDRA'S SISTER
After the alleged hiccup in his romantic life, "Counting On" fans have been left with even more questions, including who Jedidiah Duggar is dating.
He might be getting involved with 19-year-old Lauren Caldwell, Kendra's younger sister, reported Hollywood Gossip. Allegedly, Lauren has been visiting the Duggars and being part of the family gatherings lately.
Since the Caldwells and the Duggars have known each other for several years, it shouldn't be that surprising.
However, "Counting On" fans pointed out that it's strange that Lauren started showing up soon after her 18th birthday, suggesting that she might be ready to start a relationship with one of the single men in the family.
LAUREN SUPPOSEDLY HAS MORE THAN ONE CANDIDATE
When asked about which Duggar would ask Lauren to court, Reddit users shared that Jedidiah was the most likely choice.
"Jed is my guess but the wedding photos would for sure look like prom photos," wrote one. "Jedidiah. He couldn't get Kendra so he'd probably go after her younger sister," added a second person.
While Jed might be the one dating Lauren, there is also a rumor that Jason Duggar, 19, is the one pursuing her love. According to Cheatsheet, Jason and Lauren have been photographed together several times in different locations, including the airport where they reportedly stood side by side, and during a mission trip to Greece.
Unfortunately, neither the Caldwells nor the Duggars, that usually announce such news, have confirmed any of those relationships, which means that both Jason and Jedidiah are officially single.
Please fill in your e-mail so we can share with you our top stories!