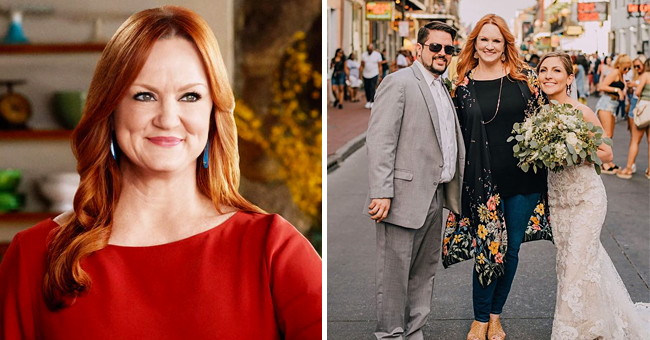 instagram.com/thepioneerwoman
'Pioneer Woman' Fan Got the Wedding Gift of a Lifetime When Ree Drummond Joined Their Photo Shoot
The Pioneer Woman and Food Network Star, Ree Drummond gave a newly wedded couple the wedding gift they were never expecting when she bumped into their wedding photoshoot.
The excited couple asked the star to join in their photo, and together, they created a memory that would last long.
According to her, she was walking down Bourbon Street in New Orleans when she saw the newlyweds walking out of a building, accompanied by a small, but intimate wedding party.
She then hurried away from them so as not to cause any obstruction. Ree was still trying to get away when she felt a gentle tap on her shoulder. It was the couple, and they were asking her to join them for a photo.
That gesture touched her so much, and she obliged. She thus dedicated the post to them. She also wished them (Matt and Lacy) a lifetime of love.
THE BRIDE IS A HUGE FAN OF REE DRUMMOND
The couple was blessed to have the "Pioneer Woman" host pass by their wedding and couldn't resist asking her to join their photo. The photo was taken by Vanessa Rivas, the owner of Miss Meow studios.
It was her assistant who had first noticed Ree Drummond's presence. When she alerted the rest of them, the bride, a huge fan of Ree ran after her; she also made her husband ask the Star for a photo.
According to Vanessa, the whole episode lasted for about five minutes but is sure to live forever in the couple's memory. It wouldn't be surprising to find the picture framed and hanging in a big part of the couple's home.
REE DRUMMOND IS WELL LOVED
Also known as the "Pioneer Woman" for her role as host of the television show, Ree Drummond is famous, and well loved by many people in the world.
Due to her fame, Osage County in Oklahoma is now somewhat a tourist attraction as many people troop there to catch a glimpse of the small town of Pawshuka.
Tours to her television cooking kitchen are also available for interested visitors. It would be worth visiting as one can get a taste of her exquisite dishes.
Please fill in your e-mail so we can share with you our top stories!