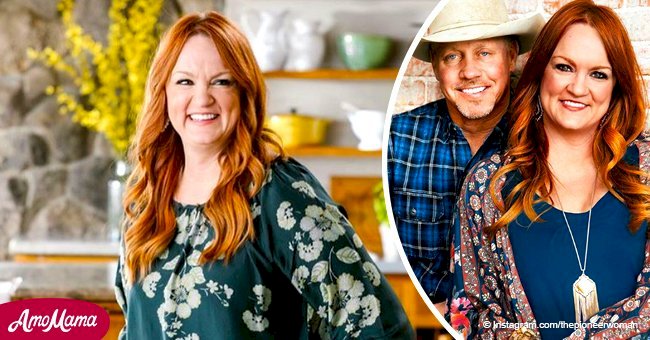 The Pioneer woman's husband threw her an amazing surprise 50th birthday party
Ree Drummond is an American blogger whose online diary, The Pioneer Woman, in which she tells of her life as a housewife, mother, and farmer on a ranch, is well known in the United States.
Ree offers his own story for other women to continue dreaming about. He left his life in the big city, after having grown up in the provinces, to end up in a ranch with neighbors several kilometers away.
After this great radical change, she began to see things from above, to enjoy a person who loved her for herself, regardless of her clumsiness, and loving her without further ado. This person is none other than her beloved husband Ladd Drummond, whom she affectionately calls "Marlboro Man".
Follow us on Twitter for more @amomama.
Ree turned 50 on Sunday, January 6 and her husband decided to honor her by organizing a great surprise party attended from all the corners of the country by all the relatives and friends that the Pioneer Woman loves the most in her life.
'My sister was there from Seattle, my closest high school friends came from San Diego, Dallas, Kansas City, and Atlanta, and my oldest / dearest childhood friends were there, too,' she wrote in a social media post.
The celebration took place at one of the restaurants owned by Ree; the famous P-Town Pizza. There was nothing missing in the event; there were pink macarons, dessert cups, and a lovely custom-made birthday cake.
Friends and family of the TV personality enjoyed an unforgettable night while sharing old stories that made them laugh "until their ribs hurt" as expressed by Ree in an Instagram post.
In the end, Ree was delighted with the surprise party that her husband organized and was happy that he did not pay attention to her and decided to surprise her with a beautiful evening surrounded by loved ones.
Surely we all want to have a partner as loving as the "Marlboro Man" is with his wife. Ladd Drummond is a man of few words, however, there are many fascinating things to say about him.
The television star couple has been married since 1996. Soon after getting married, Ree had to witness the sad divorce of her own parents after learning that her mother, Gerre Smith, was having an affair with the family pastor.
Despite hinting about troubles in their marriage and the struggles in their relationship, Ree also admitted in her blog that she was able to 'sneak in a couple of date nights' along with Ladd during one trip to Vail.
Please fill in your e-mail so we can share with you our top stories!