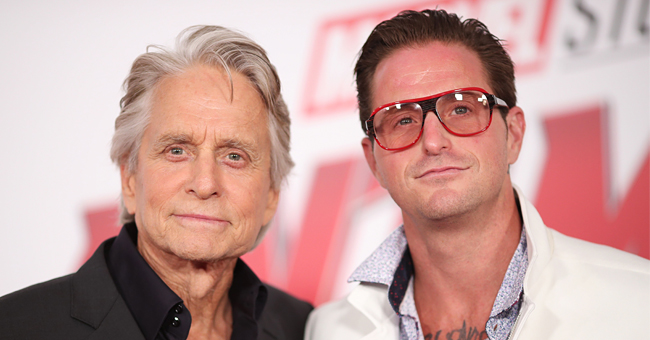 Getty images
Michael Douglas' Son Shares a Video with 'Angel' Daughter Near the Ocean
Cameron Douglas shared a cute video of him spending time with his daughter near the ocean. The little girl experienced what the ocean's gentle tides feel like and seemed to enjoy it.
Michael Douglas' son, Cameron, shared a beautiful father and daughter moment on his Instagram page.
In the video he posted, he and his daughter, Lua Izzy had some fun at the ocean. The cute Lua loved every moment of it as she giggled happily. Commenters to the post loved it very much and tagged Cameron, a wonderful father.
LUA'S BIRTH
Lua was born to Cameron and his girlfriend, Viviane Thibes in December of 2017. Her birth made Michael Douglas a grandfather, adding to his list of long roles. Her birth also brought joy to her father, as she came after he had gone through a difficult period.
CAMERON'S DIFFICULT PERIOD
Sixteen months before Lua's birth, Cameron was released from prison. He had been sentenced to a prison term of five years. The younger Douglas was caught in possession of heroin and methamphetamine. His prison sentence was extended further after he confessed to smuggling drugs into prison.
His time in prison also meant his relationship with his father became distant. However, Michael visited his son regularly while he was in jail. Since his release, the two have bonded and are now closer than ever.
He earlier told People Magazine that he and his father had a special relationship that becomes closer in difficult times.
MICHAEL DOUGLAS THE GRANDFATHER
The 74-year-old actor is loving his grandfather role very much. He gets to spend time with Lua as much as he can, and the cute Lua also loves having her Buba around. That fact was shown when Cameron Douglas posted a picture on Instagram of the actor having a moment with his granddaughter.
In the picture, Michael held Lua in his arms while they looked at each other in the eyes. The adorable picture was duly captioned as #Lua Loves her #Buba.
THE DOUGLAS' RICH ENTERTAINMENT HISTORY
Cameron Douglas followed in his family's history of producing entertainers. His father, Michael, is an actor; his grandparents, Kirk, and Diana Douglas are also famous for their on-screen talent.
His two uncles, the late Eric Douglas, and Peter Douglas also have links with the industry; Eric was an actor, while Peter is a film and television producer.
It is not surprising then that Cameron followed in those footsteps, though he hasn't reached his father's fame. He is also a DJ, and of course, a loving father.
Please fill in your e-mail so we can share with you our top stories!