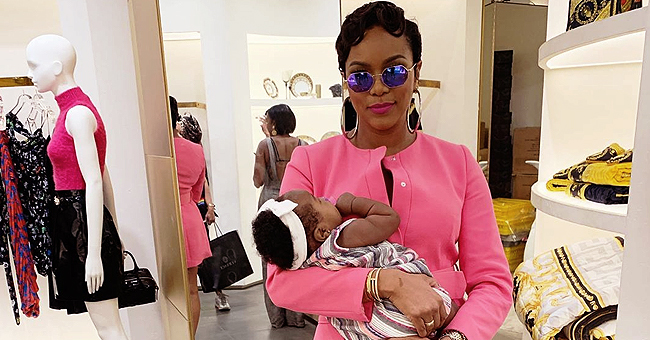 Instagram/letoyaluckett
LeToya Luckett Wants to Expand Family but Is Scared after Pregnancy Issues with Gianna

In a sneak peek into "T.I. & Tiny's Friends & Family Hustle," LeToya Luckett addressed some of the burning questions fans have been asking. She discussed family issues, health, expanding her family and even her career.
The reality star, LeToya Luckett is adjusting to life with a baby. LeToya Luckett-Walker and husband Tommicus Walker welcomed their first child, Gianna Iman, together in January this year.
On the upcoming episode of "Family Hustle," LeToya takes some time for herself with her mom Pam. They decide to spend some time resting in the sun and bonding with each other.
In the 2-hour season finale sneak peek, LeToya is seen talking to her mum about expanding her family. She reveals she would love to have more children but has some concerns.
During the discussion, she reveals that she is concerned about how taxing a second pregnancy will be on her health. She had a very complicated first pregnancy.
She also discussed her mother-in-law's health. She revealed that doctors have decided to stop chemotherapy and that she has been going between Atlanta and Houston to spend time with Tommy and his mum.
"Seeing him with his mum, has really hit home for me," said LeToya. "It reminded me that I really need to make sure that I spend as much time with my mum as possible. I just can't take it for granted"
She went on to say her mother-in-law's health issues has opened her eyes to her own life. LeToya explained they realized that, in the words of her mother, "tomorrow is not promised" and they needed to spend as much time with their family as they can.
"Watching everything that Tommy and his family is going through right now, growing our family is my priority," added LeToya. "More so now than ever."
"You can have all the money in the world, but time, baby, you can't get back," she said reflectively.
Her mum raised concerns that after the hemorrhaging she experienced when she gave birth to Gianna she might face more complications if she gets pregnant again. LeToya replied saying she is a "little afraid."
They went on to discuss other options such as surrogacy and adoption in case her body is unable to handle another pregnancy. She also opened up that she is currently focusing on getting back to her career as well.
After talking about everything with her mom, she said:
"I want to get some information and that way we'll be able to make a decision."
The clip ends with her mum joking about needing a grandson. LeToya jokes that she can't control what gender the baby will be.
Please fill in your e-mail so we can share with you our top stories!