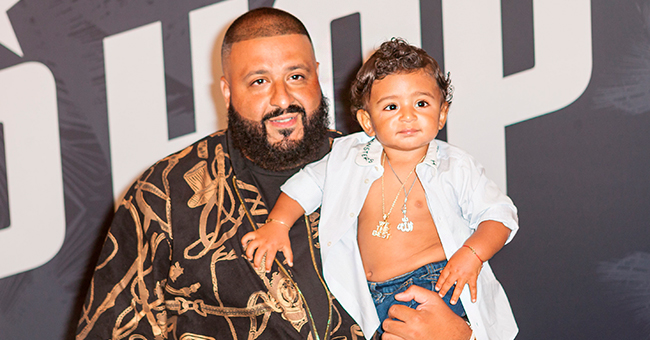 Shutterstock
DJ Khaled Talks 'Daddy Doody', Says Potty Training 2-Year-Old Asahd Is a 'Team Effort'
DJ Khaled believes that potty training a 2-year-old takes "team effort." The world-famous musician is reportedly very involved in the process with his son, Asahd.
The ultimate doting dad, DJ Khaled, recently sat down with People Magazine for an interview. The superstar recently hosted the Days of Summer Cruise in partnership with CÎROC Summer Watermelon
During the interview, the deejay and producer revealed that his fiancée Nicole Tuck and him are currently potty-training their 2-year-old, Asahd. Living up to his doting dad reputation, DJ Khaled is very involved in the process.
"He's out here growing so fast. I've been on the road for like two weeks. I came home and I'm so proud of him because he's talking a lot more. Before I left out of town he was saying 'Father of Asahd, Father of Asahd'," said Khaled.
The 43-year-old, who titled his new album "Father of Asahd" in honor of his son's words, went on to reveal the 2-year-old is already ready to give up diapers. His fiance has started potty-training Asahd.
"I call him big boy now," said an awestruck Khaled, "Today I actually watched him not wear his diaper. He's potty-training now and my queen [Tuck], she's so amazing."
Even though he was away from home for a few days to attend the Days of Summer Cruise with CÎROC when he got home he immediately started helping Tuck. He went on to reveal that in his opinion it takes teamwork to raise a child.
"All of us are taking part, Mama of Asahd, Father of Asahd, and we love our nanny," he adds. "She's family, her name is Rosa. So it's a team effort, you know what I'm saying. He's a grown boy though, he's good."
The star admits that since having his son he does "everything for my son and my queen and my family." He went on to say they inspire his music as well.
The album isn't the first time Khaled has made a big gesture for his baby boy. Last year, for Asahd's second birthday he threw a lavish party.
The carnival-themed bash was held at Marlins Park in Miami. It was complete with carnival rides, a six-tier birthday cake, portrait drawing, and even a petting zoo.
The final touch was a fashion show displaying the Asahd Khaled "Brand Jordan" Collection.
Please fill in your e-mail so we can share with you our top stories!