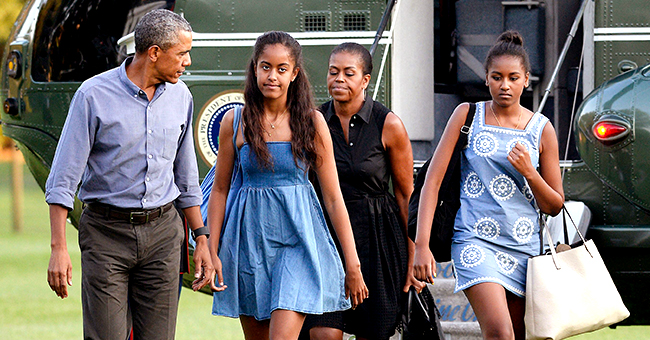 Getty Images
Essence Fest: Michelle Obama Talks Malia, Sasha Crying When Moving out of White House

Michelle Obama reveals that her daughters, Malia and Sasha, cried when they moved out of the White House as much of their childhood was spent there. For anyone who's shared so many memories in a place, letting go is definitely not easy, especially when you know you're not coming back.
When you've lived in the White House for eight years, it might be quite difficult to leave right then and there when a new president gets elected. However, it's not just presidents themselves who get attached to the mansion in the middle of Washington, D.C., but even their families.
Growing Up in the White House
That's exactly the situation that Malia and Sasha Obama had to face when their dad, Barack Obama, finished his second term as president.
They were used to it all - the politics, roaming the vast halls of the White House, the meetings next door, having to have a guard even when they went on sleepovers. These all became normal to Malia and Sasha, that it became weird when they had to live without them.
While some kids could have easily resented these rules, Sasha and Malia didn't, because they understood what needed to be done.
On Raising Their Children
Michelle credits her own upbringing on how her daughters were raised, saying she credits her mom for everything.
"I credit my own upbringing. I credit my mother. She was in the house with us. Anyone who met Marian Robinson knows she's not impressed with anything."
Now, Sasha and Malia are college students and that has been difficult for both Michelle and Barack who have to live with just both of them in the house.
However, the couple already knows the ins and outs of their marriage, especially since they know their limits and when it's time to get help just to keep their relationship healthy.
On Marriage Counseling
When they had difficulties in their marriage, she and Barack once enlisted into marriage counseling. They've been married for 26 years, but at one point, Michelle firmly believed that they needed professional help to make sure that their marriage stays strong as it is.
"The thing about marriage counseling is, I was one of those wives who [thought], 'I'm taking you to marriage counseling – so you can be fixed, Barack Obama.' Because I was like, 'I'm perfect.' I was like, 'Dr. X, please fix him.'"
Once they got to the counselor's office, though, she was surprised that the tables were turned on her.
And then our counselor looked over at me. I was like, 'What are you looking at? I'm perfect.' Marriage counseling was a turning point for me understanding it wasn't up to my husband to make me happy. That I had to learn how to fill myself up and have to put myself up higher on my priority list."
Since then, the Obamas have been living their best lives post-White House, and they've focused their time and effort on family, and other philanthropic works.
Please fill in your e-mail so we can share with you our top stories!