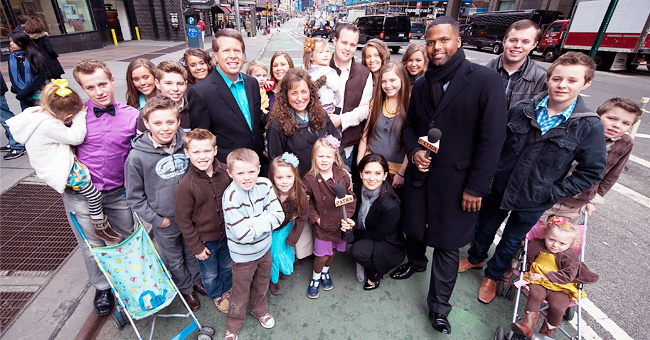 Getty Images
Duggar Confessions That Stunned Fans

The Duggar family have become notorious for their compelling reality show. The TLC celebrities remain fan favorite simply because of the size of their ever-growing family and endless drama but even the biggest fans didn't see these confessions coming.
With a family as big as theirs, it's no surprise that the Duggars have made some juicy confessions over the years. From Jinger confessing her sins to Jessa breaking their strict dating rules, everything has been revealed at some point.
Josh confesses to cheating on Anna:
Before August 2015, Josh Duggar regularly advocated for commitment. He even sang about loyalty to his wife Anna Duggar on their wedding day in September 2008.
"I'll be there, until the end with you. I'll do my best to be faithful and true," one line of the song read.
When he admitted to cheating on Anna in August 2015, fans were absolutely gobsmacked. He confessed that he signed up to the notorious adultery website, Ashley Madison.
At the time he was working at the Family Research Council, an organization dedicated to advancing "faith, family, and freedom in public policy." Josh opened up about his infidelity and hypocrisy on the Duggar family's website writing:
"I have been the biggest hypocrite ever. While espousing faith and family values, I have secretly over the last several years been viewing pornography on the internet and this became a secret addiction and I became unfaithful to my wife … I humbly ask for your forgiveness. Please pray for my precious wife Anna and our family during this time."
Josh inappropriately touched his sisters
A confession that shook the very core of the Duggar family was once again by Josh Duggar. This time the oldest Duggar admitted to inappropriately touching his sisters during his pre-teen years.
In May 2015, a disturbing set of events unfolded. Police documents revealed that Josh was investigated in 2006 for allegedly molesting his underage sisters. At the time of the supposed investigation, he was 14-years-old.
After the news broke, Josh admitted to the claims on May 21, 2015. In a statement about the incidents that took place in 2002 and 2003 on the Duggar Family's Facebook page Josh said:
"Twelve years ago, as a young teenager I acted inexcusably for which I am extremely sorry and deeply regret. I hurt others, including my family and close friends. I confessed this to my parents who took several steps to help me address the situation. We spoke with the authorities where I confessed my wrongdoing and my parents arranged for me and those affected by my actions to receive counseling … I would do anything to go back to those teen years and take different actions."
Fans were horrified and shocked by his confession. It shattered the perfect Christian image the Duggars worked so hard to portray.
Joy-Anna struggled with her parents' religion
Joy-Anna Duggar has earned a reputation as the rebel in the family especially after her shocking confession that she had struggled to accept her parents' faith. She made the eyebrow-raising revelation in a toast to Joseph Duggar at his rehearsal dinner.
"I can't speak and cry. It's terrible. First of all, I want to say that Joe, I'm so thankful for you," admitted Joy-Anna . "You really did change my life. Just though my teen years, I think I was having a hard time taking my parents' faith as my own and you really befriended me as an older brother."
She did not give details about her "hard time." While Joy-Anna and her husband Austin are devoted Christians, they have been known to break away from Duggar rules regularly.
Jessa broke a major courting rule
Jessa Duggar admitted that she broke her parent's chaperone rule by chatting to her then-boyfriend, Ben Seewald, on the phone without anyone else listening before they got married. She wrote in the Duggar girls' book, Growing Up Duggar:
"The day Ben and I started courting, we began our tradition of calling each other on the phone every night. These were such special times. These calls were not 'chaperoned.' They were private just between the two of us."
Amy Duggar King was born out of wedlock
Amy Duggar King is the daughter of Jim Bob's sister, Deanna Duggar. She stunned fans in January 2015 when she announced that she was born out of wedlock.
"The tabloids are telling the truth, my mom and dad did have me out of wedlock," King revealed. "I'm sure [my mom] was scared, young, ridiculed, and felt ashamed."
Deanna married Amy's dad, Terry Jordan 18 years after she was born.
"Terry and I knew each other a long time ago, and I got pregnant with Amy," Deanna confessed in 2009. "And so, we dated each other on and off for quite some time. Then we finally decided you know what, we need to get married! So we got married, we've been together for 3 years."
Jinger confessed to sinning
Jinger once confessed to doing "bad deeds" as a pre-teen. It's not exactly clear what exactly she did but Jinger insisted on admitting her sins to Jim Bob and Michelle when she was14-years-old.
"I grew up in a Christian home, of course, but I realized at a young age that I was sinner," she told her brother-in-law, Ben Seewald. "I came to my parents and I was like, I really need Jesus because I know in my own self I'm not going to be able to get to heaven. I've done so many bad deeds. I've sinned against God. I cannot save myself from my sins. I was totally broken."
Please fill in your e-mail so we can share with you our top stories!