Khloé Kardashian Responds to Troll Who Accused Her of Materialism
Khloé Kardashian was full of grace in her response to a fan who accused her of being oblivious to her materialism. "It's so sad," they said. 
The 35-year-old reality star took to Instagram on Sunday to share how much her daughter True enjoyed a new pink toy car outside their home. The post is found below.
"I have so much fun with her," Khloé wrote in the caption. Right away, her fans expressed their awe at how cute the one-year-old looked in her pink dress. It was the second pink dress she wore this weekend, the other she paired with a gold headband.
There was one person, though, who felt they should share their opinion on the perceived negative aspect of the post. 
They wrote: 
"Great, another kardashian in a Bentley. You guys are so oblivious to how your excessive spending looks to the outside world. I really loved your family's story and now just can't bare to watch as you spend all this money on worthless materialism. It's so sad." 
Khloé responded to the user's sentiments with a fairly mild answer: 
"ummm you know this is not a real Bentley? It's a toy. No reason to get sad over a baby in a toy car. either way i'm sorry you feel that way but I hope you have a great weekend! Focus on things that make you happy! Smile"
With that, the person replied to Khloé saying that they appreciate the response and that they were just giving her something to think about. They pointed to her influence and said there's always room for improvement. 
Khloé again responded, stressing on how the person spoke in a much better tone than in their initial comment. She disagreed that she spends money on "worthless materialism," however. 
The star explained that she sleeps well at night because she has "balance" in her life and though she spoils her daughter — with both love and materials items — she also plans to instill certain principles in her. 
Those will include "values, responsibilities, chores, respect, [and] self love." At the end of the day, the Kardashian family spends their money how they see fit after working hard for it. 
She ended by saying that we all should "lead with love above everything else." And that was that for the surprisingly non-fiery exchange as is typically found in online back and forths.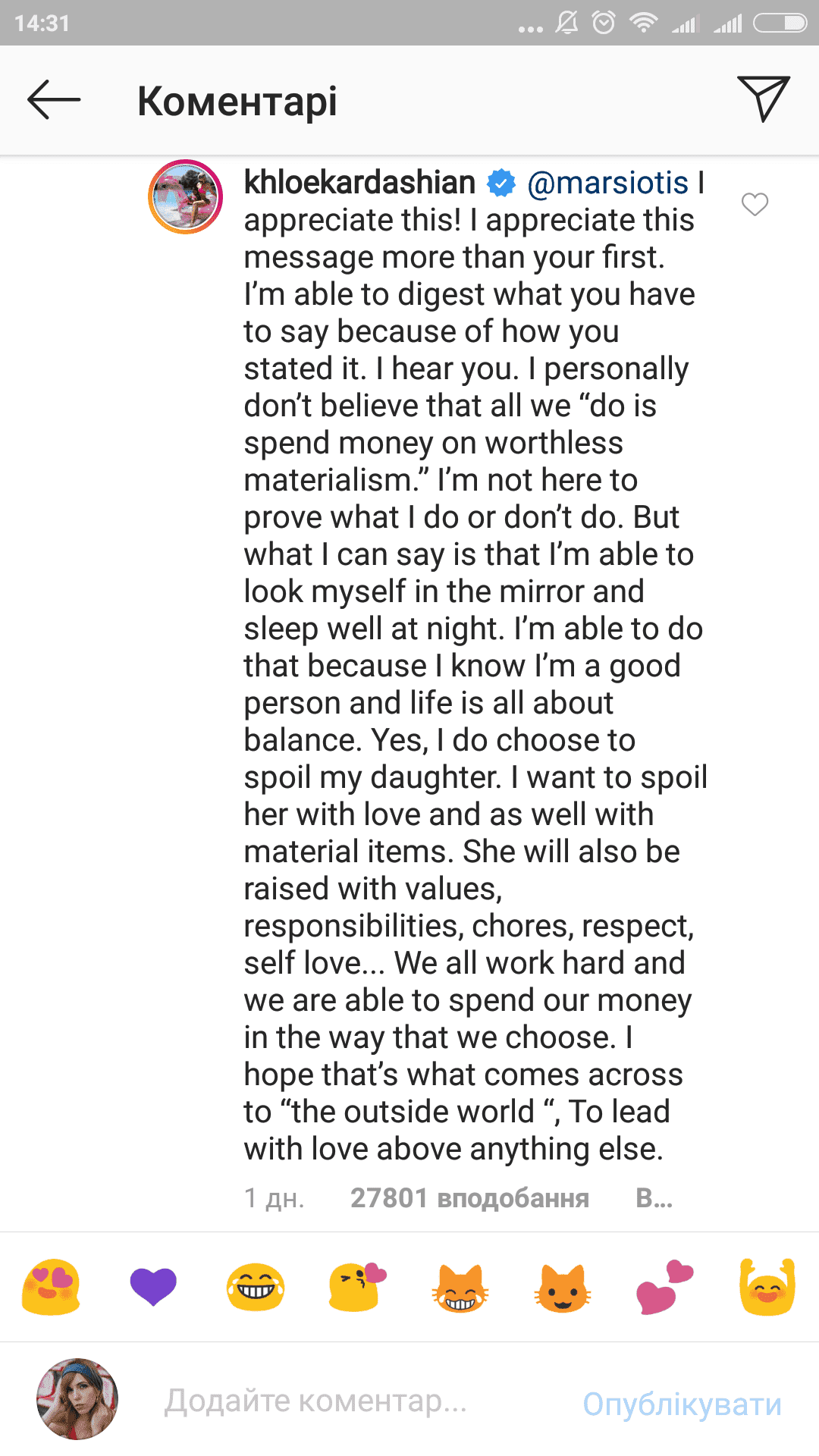 Undeniably, True, who Khloé shares with ex-boyfriend and professional basketball player Tristan Thompson, is certainly a most adorable sight, whether she's cruising in toy cars or soaking up some rays on the beach.
And much to the delight of Kardashian fans, she did just that back in February. Then just nine months old, the small tot looked stylish as ever wearing pink sunglasses and a matching sweater and undies as she sat on the sand. 
In one shot, True smiled at the camera and we're sure it melted a few hearts. "I brought sand to the beach 'Cause my beach is better," her mom captioned the post. If anything, True certainly brought the cuteness to the beach.