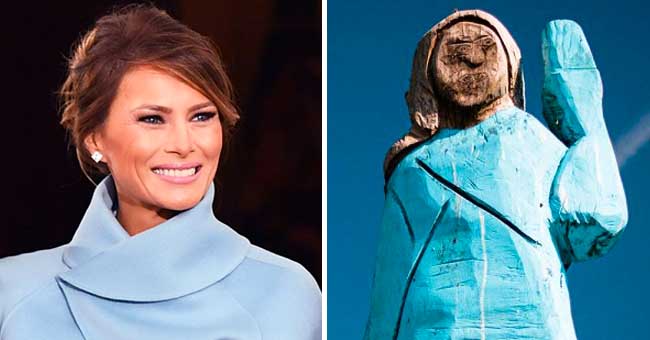 Getty images / twitter.com/SkyNews
Melania Trump Statue Made of Wood Placed in Her Homeland Slovenia
A Slovenian artist chose to honor Melania Trump by carving a wooden statue of her. The colossal figure has since elicited several reactions from fans.
American art critic, Jerry Saltz shared a picture of the statue via Twitter on July 5 and shortly added a description of its origin.
MELANIA TRUMP GETS HER VERY OWN STATUE
First Lady Melania Trump was honored in her home country of Slovenia with a statue in the city of Sevnica this week and reviews of the figure are mixed.
The statue, which was carved entirely out of wood, was first displayed on Friday in Sevnica, Melania's native town. The creation was inspired by the first Lady's appearance at her husband's presidential inauguration back in 2017. The light blue suit is a high-end fashion as it was a part of the Ralph Lauren Collection.
The wooden statue of the First Lady has elicited a variety of responses from netizens. While some likened it to a scary scarecrow, a few others pointed out that it looked like a Smurfette of sorts.
It is an, unarguably, great choice to have an iconic moment; like it was back then at the inauguration ceremony, seemingly frozen in time by art. However, it is the staggering difference between the statue and the real Trump that has netizens in hoots.
The brain behind the creation is reportedly local folk artist Ales Zupevc. Using just a chainsaw, Zupevc handmade the tall figure from the trunk of a living linden tree. He, however, did nothing to carve out Melania's face into the statue and that bore the brunt of netizens' reactions.
"SHE DOES NOT LOOK AS BEAUTIFUL AS SHE NORMALLY IS."
Although it's face does not look anything like Melania's, there is a striking similarity between its ensemble to that of Melania's during Trump's inauguration.
Fellow Slovenian natives havee since aired their opinions about the colossal statue and while some found it remarkable, an even more significant thought the icon was improper and looked nothing like it should.
One resident said to Reuters:
"The sculptor worked a long time on this, and she does not look as beautiful as she normally is."
Many others just used insulting words like "disgrace, " and "Smurfette," to describe the newly revealed statue.
Zupevc is well aware of the blunt criticisms, and he revealed this during a recent appearance on an interview with AFP. Although he explained that he understood the reasoning behind the unfavorable comments, it is sure that they must have hit a sensitive spot for the artist.
The main reason Zupevc carved the figure was to display Melania as she truly is, a beacon of hope for immigrants. Hopefully, the general public will come to appreciate his creativity.
Please fill in your e-mail so we can share with you our top stories!