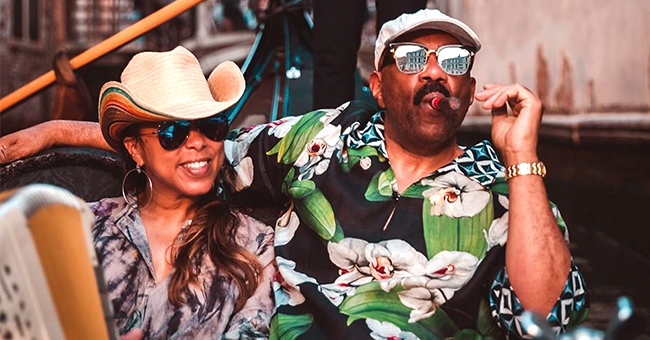 Instagram/marjorie_harvey
Steve Harvey's Wife Marjorie Shares Photos from Venice Anniversary Vacation
Steve Harvey hasn't had the best couple of months after being taken out of two of his shows. To add to that, his current show, "Family Feud," just ended its current season and is on a hiatus. This prompted him to spend some time off from the entertainment industry by going on a long European vacation with his wife, Marjorie.
Steve and Marjorie Harvey have been sharing bits and pieces of their luxurious vacation in Europe, which they've clearly been enjoying.
A Variety of Vacation Photos
They kicked off their vacation in the only way they know how: through a trip on their private jet. After their flight from the US to Europe, that's when the real fun began.
In one photo shared by Marjorie, she and her husband are enjoying a lovely cruise on a gondola, as the TV host enjoyed tobacco while Marjorie looked on smiling.
She then shared another one of her enjoying a speedboat ride, with the wind blowing her face and keeping her hair messy.
A Well-Deserved Break
Just a couple of days ago, Steve announced on Instagram that he just finished filming the last episode of "Family Feud" for this season, and he was granted a well-deserved break.
Before going into details about what he was about to do during this break, he first thanked the staff and the studio audience, claiming they are "one of the best you could ever get on TV."
A Glimpse into their Vacation
He then said that the show wasn't going to start til a couple of months, so this gives him time to go on vacation with the "baddest chick," Marjorie Harvey.
Steve shared his vacation plans with the studio audience and now, the rest of the world, by saying that they were going to cruise the Italian and French Rivieras, and head on down to Croatia.
That's exactly what they've been sharing now, as they've been hopping on boats and gondolas to enjoy peaceful cruises along the rivieras and canals of Europe.
Bouncing Back from Show Cancellations
This well-deserved break isn't just because he's finished another episode of the "Family Feud," but because he's lost two of his long-running shows, "Steve," and "Little Big Shots."
With his network choosing to go for "newer" shows on TV in hopes of spiking up their ratings, Steve was left with "Family Feud," which hasn't been a problem for him. In fact, after this break, he's cooking up something new for his fans that they can definitely look forward to. After all, Harvey is one of the most hardworking men in the industry.
Please fill in your e-mail so we can share with you our top stories!