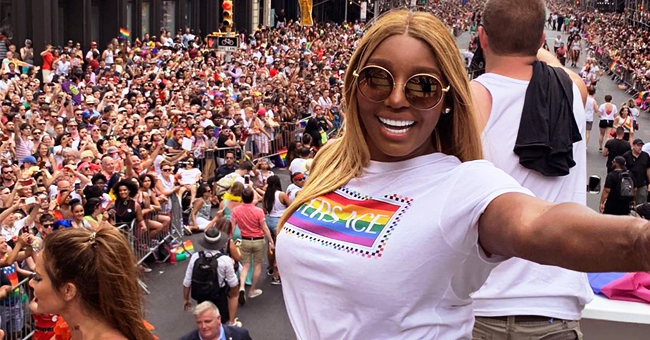 Instagram/neneleakes
NeNe Leakes Shared Pics from Pride Parade but Some Fans Chose to Shame Her

Critics of NeNe Leakes found another opportunity to take her down. They body shamed her after seeing what she looked like in photos she shared from her attendance at the Pride Parade.
Like most celebrities who trooped to New York to take part in the city's Pride Parade, NeNe Leakes took pride and shared images from the festive occasion. The reality star was evidently beaming with joy aboard a float, but fans found a reason to drag her spirits down.
NENE SHARES PRIDE PARADE EXPERIENCE
NeNe shared a late post revealing her support for the LGBTQ community. She explained in her caption that she almost forgot to post due to her busy schedule but gushed about how "absolutely hot and amazing" her experience on the float was.
Dressed in a white Versace T-shirt with rainbow stripes, NeNe showed some skin when she tied the lower part of her top in a knot. Then she added more color by pairing the shirt with yellow pants.
One commenter on her post wrote, "Girl, you have put some weight on!!"
FANS BODY SHAME HER
And while her look was perfect for summer and for screaming world pride, some online bashers had negative things to say about her, particularly her body. One commenter on her post wrote, "Girl, you have put some weight on!!" while another supported that thought and said, "Girl bye!! Those pants are not supposed to fit like that." A third commenter was vague writing, "You are totally disappointing" and didn't elaborate.
NENE CONFIRMS RETURN TO HER SHOW'S 12TH SEASON
We're guessing these comments did little to dampen NeNe's spirits now that she confirmed she'll be on board for Season 12 of "Real Housewives of Atlanta." Previous rumors suggested she'd be sitting out the season due to a suspension stemming from her violent closet outburst during the finale of Season 11.
However, NeNe dispelled these rumors during a recent radio interview. She told the hosts of Majic Radio Show, "I have never been suspended. And I am on Season 12."
A source close to production told Hollywood Life that there was no question NeNe wanted to be back on the show, it was just a matter of negotiating a deal that satisfied her. Despite making a lot of enemies in the reality series, she remains committed to being part of it.
Please fill in your e-mail so we can share with you our top stories!