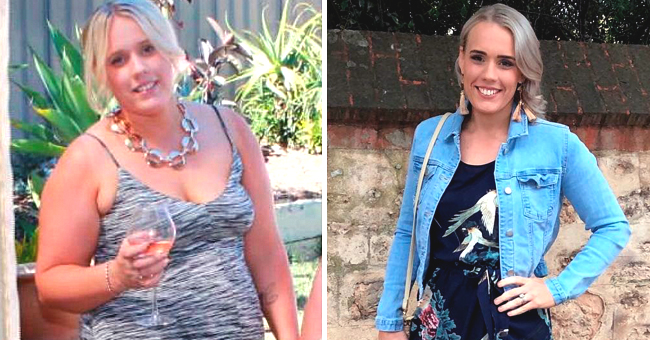 instagram.com/nataliejaynefitmummy
Mom-of-three, 28, Loses 132lbs and Prepares to Participate in a Fitness Competition
An Australian mother shed an incredible amount of weight after being "disgusted" by selfies she took post-delivery of her three children.
Hailing from Adelaide, Australia, Natalie Hirst, 28, was appalled at how she looked after gaining weight from three pregnancies. The third left her at 286 pounds, 105 pounds heavier than she was when she got married.
Speaking to FEMAIL, Hirst described the day she decided to change her lifestyle completely and go back to being closer to her teenage weight. She said, "I was disgusted by my photos and couldn't believe the difference. I was 48kg from my wedding body. A reality check that put a fire in my belly."
Hirst admitted that she used her pregnancies as an excuse to eat anything she wanted. Combined with a heart condition, she was forced to remain off her feet, increasing her weight gain even more.
After initially gaining weight in her late teens and then even more after her first child, Hirst gained experience in the world of crash dieting. This time around, she wanted to do things the right way.
"I rejoined a gym with a creche and attended gym classes daily. I absolutely loved it," she explained, then added, "It was time out of the house with three young children. They got to socialize as did I."
Instead of sticking to shakes and meal plans, Hirst opted to increase her water intake and purchased healthier foods for her cupboard. She ate in smaller portions and only rewarded herself when she evened it out with an additional workout.
After losing 88 pounds on her own, she hired a personal trainer to finish off the job. Due to the significant weight loss, Hirst underwent surgery to get rid of two pounds of excessive skin. In total, she's now 132 pounds lighter.
The mother-of-three became a trainer herself, teaching others how to accomplish what she did. She works at the gym that changed her life, Trend Fitness Morphett Vale.
Online, she regularly posts before and after shots of herself from her journey. She's preparing to compete in a fitness transformation competition that will require a two-piece segment, allowing her to put her new fit figure on full display.
Hirst's story is similar to that of Janine Mueller's, who appeared of "My 600-Lb Life" last year. Mueller weighed a whopping 678 lbs at the start of her journey, and she was reduced to immobility as a result.
She used a scooter due to her excessive weight, but that would change. Two years into her journey, Mueller revealed to her doctor that she had lost an incredible 431 lbs.
Not only that, but she'd found love while she made her way to a healthier life. Like Hirst, she needed surgery to remove the excess skin she carried and also had to get a lymphedema mass removed.
Like viewers, the doctor was shocked to see Mueller getting around without a walker nor a scooter. Also, they were happy to hear about her new relationship. We wish both women success as they continue their healthy journeys.
Please fill in your e-mail so we can share with you our top stories!