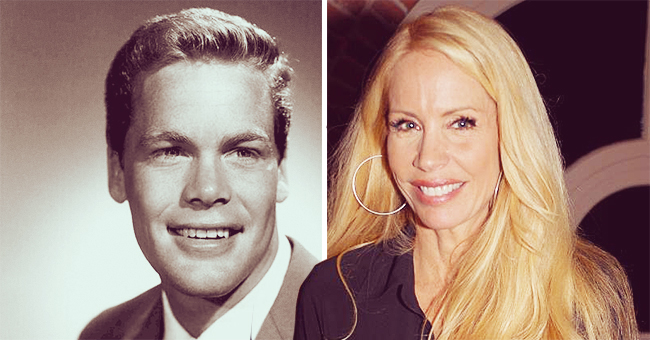 Source: Wikimedia Commons
Meet 'The Virginian' Doug McClure's First Daughter Tane Who Followed in Her Father's Footsteps

While Tane McClure became known for her role as an orphan alongside her father, Doug McClure in "The Virginian" at the age of five, Tane went on to wear many "hats" in the entertainment industry as part of a successful career.
Since Tane first appeared in "The Virginian" in 1963, she starred in over 50 movies and diversified into directing, producing, and editing of content for major networks around the world.
With a Hawaiian/Polynesian opera-singing mother Mae Brash, and a showbiz legend as a father, the mix of music and acting armed Tane with all the talent she needed to fulfill her aspirations.
Born in Pacific Palisades, California on June 8, 1958, Tane only moved to San Francisco after she graduated high school from the Punahou School in Honolulu, Hawaii in 1976. By that time, Tane had already acted with her father and also sang in a Latin jazz band, Sweet Honesty.
After her move to San Francisco, Tane met Jonathan Cain, who played keyboards with the Babys until he joined Journey in 1981. They got married, and she moved with him to Los Angeles where she signed with RCA for the release of her self-titled debut album in 1982 at the age of 24.
Jonathan co-produced the album with Keith Olsen and released two singles, "Holdin' On," and "Danger Zone," but her album sales disappointed and RCA dropped her from the label. Consequently, she never recorded a second solo album but continued to play the Los Angeles club scene well into the 1990s. Despite the album's failure, the experience meant a lot to Tane.
"Just the physical feeling of singing and belting out a song that creates emotion…That alone was wonderful to me. I really enjoyed that. Just the whole experience of being a singer was pretty exciting," she said during an interview in March 2018.
Four years after her album's release, Tane landed her first acting role as an adult in the 1986 horror film, "Crawlspace." Tane traveled to Italy as the film got shot at Dino De Laurentiis' studios and recalled it as an "exciting" time of her life.
"I was very nervous because it was my first film, but I really, really enjoyed it…The whole experience. At lunchtime, we would have almost like a formal lunch. They would serve us wine, which was really interesting. They would never do that here in California. It was nice. I enjoyed it," Tane said.
The actress went on to add 61 acting credits during her career that most notably included, "Legally Blonde" with Reese Whitherspoon and its sequel in 2003, "The Chosen Few," "Cruel Intentions," and "Shadow Hours."
Tane also appeared in several episodes of the television series, "Sherman Oaks" during the mid-1970s and made another repeat appearance in a television series during the late 1990s in "Nightcap" as Nikki.
In 2002, Tane expanded into producing with "Trance" and became the producer of the television series, "Big Shots" in 2013. She only made her way into directing in 2007 with "Eye of Dan," while her first role as editor followed in 2011 with "Mariachi School."
Tane's father, on the other hand, gained an impressive 102 acting credits during his career. Before his role in "The Virginian," Doug had already appeared in 37 movies and television shows that included "Death Valley Days" during his early acting years in 1957, "26 Men," "Overland Trail," "The Unforgiven," and "Checkmate."
In later years, Doug starred in various favorite television series like "The Fall Guy," "Murder, She Wrote," and "Out of This World."
During the last few years of his life, Doug continued acting after he got diagnosed with lung cancer, from which he died on February 5, 1995, in Sherman Oaks, Los Angeles.
On a related note, Tane's co-star in the iconic sitcom "Legally Blonde," Reese Whitherspoon announced an exciting development for fans regarding the film.
In December 2018, Reese confirmed the making of "Legally Blonde 3," and also divulged a few extra details about the upcoming movie.
Please fill in your e-mail so we can share with you our top stories!