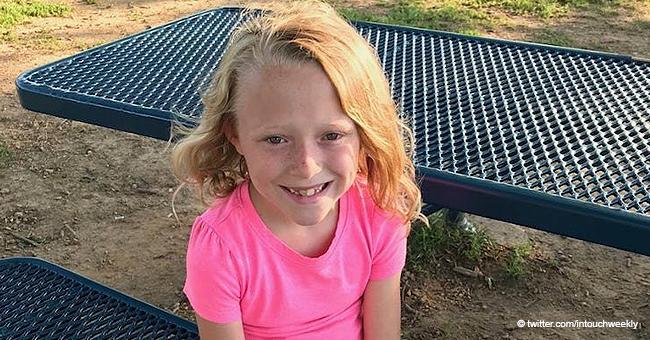 twitter.com/intouchweekly
Josie Duggar: Being Born 3 Months Premature
On December 10, 2009, the Duggar's welcomed their youngest member into the family. Josie Brooklyn Duggar weighed in at a mere 1 lb., 6 oz.
Nine years ago, the Duggar family was sent into turmoil. Michelle Duggar, the matriarch of the huge clan, went into labour with the youngest Duggar nearly three months before she was due.
The 19th child of the Duggar family, Josie made an early appearance in the world shortly after. Her birth rocked the entire household.
"Josie was born on December 10, 2009 at 25 1/2 weeks gestation and weighed 1 pound 6 ounces," read an Instagram post.
The family took to the social media site to share a throwback moment in December 2018. The series of pictures included two of Josie in the hospital with wires and tubes hooked up to her as a newborn.
The little girl was born at just 25 weeks. Her mom was diagnosed with preeclampsia and forced to give birth to Josie.
Josie only weighed 1 lb., 6 oz and suffered multiple complications after the birth including a perforated bowel eight days after she was born. Her parents Jim Bob and Michelle Duggar revealed she was classified a micro preemie.
She was born at the University of Arkansas for Medical Sciences in Little Rock, Arkansas. Thereafter, she was rushed to Arkansas Children's Hospital.
"She developed a spontaneous bowel perforation," explained Dr Robert Arrington, co-director of the neonatal intensive care unit. "She responded to placement of an abdominal drain, plus antibiotics, and did not require an open operation."
The news was exactly what her terrified parents needed to hear. Their worries that their smallest baby would not require surgery was a huge relief.
"Dr Arrington knows how to think outside the box and come up with different creative solutions," said Jim Bob in relief. "Josie is walking a daily tightrope to keep her vitals stable and the nurses and the whole team here has been wonderful."
Almost a decade later and Josie is proving she is a fighter. According to a birthday tribute from her family, the young girl "is a healthy, happy 9-year old that is full of energy."
"We are so thankful for everyone's prayers and all of the doctors and nurses at Arkansas Children's Hospital that saved her life," the family added in the post.
The Duggars went on to reveal that the moments following Josie's birth was extremely difficult for them. However, they added that their faith in God helped them through.
"That was the most difficult time in our family's life," they wrote. Adding, "but by God's grace Josie and our whole family made it through!"
Please fill in your e-mail so we can share with you our top stories!