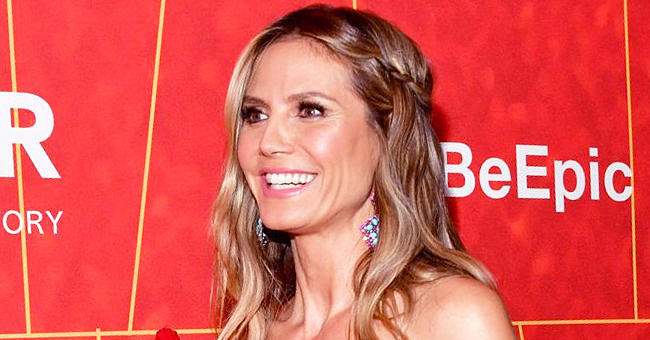 Getty Images
Heidi Klum Shows off Her Toned Figure and Makeup-Free Face in Red Lacy Underwear in Tokyo
The 46-year-old beauty, Heidi Klum loves adventures! She recently posted a lovely image, from her trip to Tokyo via her Instagram account and she looks absolutely gorgeous.
On Sunday, Klum took to Instagram to announce her arrival in Tokyo, Japan. This is after her vacation with fiance, Tom Kaulitz in Paris.
The mother of four shared a series of posts with her fans — showing them a glimpse of her world in Tokyo. In the first image, Klum could be seen wearing racy red lingerie, and her gorgeous body was in full display.
Klum, who posed in front of a huge window overlooking the city, looked stunning in the red panties and bra combination she was adorned in, which was from her collection, "Heidi Klum Intimates."
The image revealed an overflowing suitcase of clothes by her feet, as well as the beautiful racks of items of clothing on hangers and some on the floor that was surrounding her.
The image which was captioned, "Unpacking" with a tongue out emoji was accompanied by another post (a video.)
In the clip, the beautiful singer could still be seen in the same lingerie with a close-up view of her cleavage. She, however, added a purple filter to the video with the caption:
"LOVE YOU TOKYO."
The singer is, however, very comfortable with sharing images of her sizzling body. She once described to Oceans Drive Magazine in 2018 how she is okay with nudity thanks to her upbringing.
She disclosed that her parents were very much comfortable with her growing up and even described it as growing up in a "free environment." Klum told the outlet:
"I grew up in a very free environment with my parents,"
She added:
"We'd go to nude beaches. We're very open-minded, but you can't say that about all Germans."
After two failed marriages, Klum and fiance, Kaulitz got engaged on Christmas Eve in 2018, and have since been glued by the hip.
In an interview with "People," the mother of four (daughters Leni, 15, and Lou, nine, and sons Henry, 14, and Johan,12) described how happy she is in the relationship. She said:
"He is the kindest, sweetest, most caring, loving person. I feel so lucky. I don't know the last time I was this happy in my life."
Even at 46, the TV personality and model is taking all measures to keep her gorgeous body in shape, and regardless of what most may think, Klum thinks one shouldn't shy away from showing off their body; at any age.
Please fill in your e-mail so we can share with you our top stories!