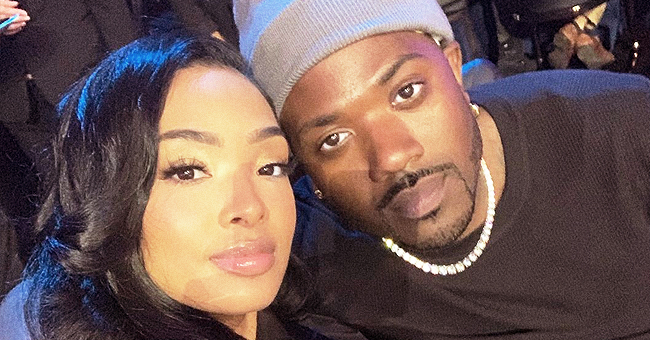 Instagram/princesslove
Ray J & Princess Love's Daughter, 1, Adorably Walks with Dad in Video
Melody Norwood is on the move, as she walks alongside her dad Ray J in a new video shared by Princess Love on Instagram.
Ray J and Princess Love's baby girl, Melody Norwood, has been melting hearts all over social media since her birth in May last year, and now, after turning 1, she's confidently walking with her dad on a mall.
The adorable toddler was captured on video trotting to catch up with her father as they walked around a mall, and she looked delighted with herself. Ray J, on the other hand, couldn't hide the proud smile that bloomed on his face watching the girl.
Melody rocked yellow pants, a white shirt, and sparkly silver shows, while Ray J looked casual in a black graphic t-shirt, matching pants, and white sneakers.
FANS' REACTIONS
The video, shared by Princess Love, has earned over 1 million views and thousands of comments from fans and friends that can't stop gushing about the toddler's cuteness.
"Seems impossible for this baby to get any cuter, yet she keeps getting cuter!" wrote one user.
Another added, "Yall have one of the cutest and most precious babies in the whole wide world. She's straight rolling! Juicy cute bow legged doll baby!"
And a third one raved:
"She's so happy! And Ray J all filled out looking responsible and dad like. Beautifulllll ..so happy for u Princess, you deserve it!"
FIRST BIRTHDAY MESSAGES
Princess and Ray J welcomed Melody on May 23, 2018, after dealing with some infertility struggles.
The adorable toddler celebrated her 1st birthday with a photo shoot alongside her dad, where she rocked a white tulle dress and a headband to frame her gorgeous curls.
Ray J didn't let the day pass by without sharing a sweet message for his daughter on Instagram that read:
"Everybody wish my little baby @melodylovenorwood and HAPPY 1st BIRTHDAY!! I keep Thanking GOD 1000 times a day for the most special blessing I've received in my life! We are celebrating Melody Love being born all month long!! And even after that!! I love you sooooo much, Melz!! #happybirthdaymelody."
And Princess Love followed suit, saying in her post:
"Happy 1st Birthday to my sweet, smart, beautiful, amazing baby girl. You have grown so much in just 1 year, but I've made sure to cherish every single moment... kissing your little hands and feet every single day so that as you grow, I can't say it just flew by. You will always be my baby, no matter how old you are. So happy and blessed to be your Mommy."
LOOKING FOR A SECOND CHILD
Although the "Love & Hip Hop: Hollywood" stars are still developing their parenting skills, Ray J confessed to US Weekly that he's already on the lookout for a second baby, as he wants to give Melody a brother or sister close in age.
"I want one more right now," Ray J revealed. "I'm trying right now. I'm trying to get one in, and hopefully, we can have another by April, if it happens. They could be friends and protect each other, like my sister and myself."
The singer also gushed about fatherhood and how much Melody has changed his life.
"It's just totally made me have a different outlook on life and just how to move and be," he said. "I was crazy, so now I'm sane, and I'm focused on just being the best dad I can be and working hard."
Please fill in your e-mail so we can share with you our top stories!