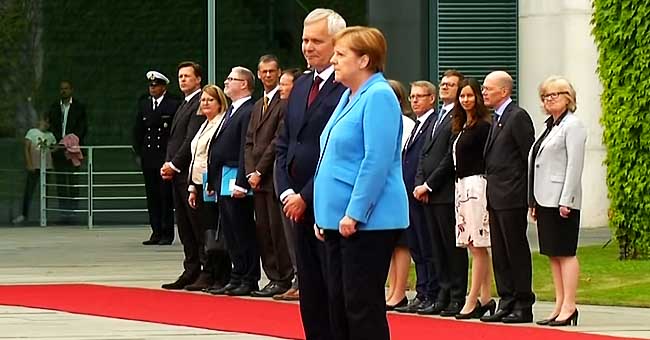 youtube.com/The Sun
Angela Merkel Spotted Shaking for the Third Time in Less Than a Month
German Chancellor, Angela Merkel has become a cause for concern after she was spotted shaking in public yet again.
The Sun shared a video of Merkel via YouTube which ran for nearly three minutes and had Merkel shaking. The short clip is, therefore, going fast viral because of this and has caused many to express worry over Merkel's health.
MERKEL'S MYSTERIOUS SHIVERING HAPPENS FOR THE THIRD TIME
It makes the third time, Merkel, who is the chancellor of Germany, will be strangely shaking in public within one month. This one is the most recent, however, it happened while she received the Prime Minister of Finland, Antti Rinne in Berlin.
In the video, Merkel tried hard to keep a straight face, but even that couldn't stop the shivering, and it became quite evident. Her whole body seemed to move of its own accord, and she seemed to show signs of discomfort by clenching her fist and biting her lips as if bracing herself.
The video is rather bizarre, and it is not too surprising that it is making headlines. It is reportedly a recurring issue as it is the third time in a few weeks Merkel has looked unsteady at official engagements, sparking fears for her health.
Late last month, she was spotted shaking at a ceremony in Berlin. The scenario was much like this one as she gripped her trembling arms and pursed her lips at the high-end event. Even that came just a little over a week after footage of her shaking for a whole minute surfaced.
"THE CHANCELLOR IS WELL…"
When confronted about the issue which made it seem like her health is failing, Merkel explained that her unsteadiness was caused by overheating or dehydration. That, however, seems unbelievable since the temperature in Berlin on July 11, when she received the Finnish prime minister, was 18C.
The last time Merkel was seen shivering uncontrollably, a concerned person had offered her a glass of water, she turned it down, and that also seemed to contradict her explanation that the shaking was a symptom of dehydration or overheating. Her spokesman also pushed that there was nothing to worry about and that "everything is taking place as planned."
The most recent official response from Merkel herself came after her July 10 appearance.
"I am doing fine and you should not worry," she said in a press conference after the meeting, and added that she was going through a phase of psychologically "processing" when she was first seen shaking the previous month.
At 64, Merkel is of great reckoning amongst the list of influential politicians in the world, which is why her shivering has raised speculations about her future as a leader. Her tenure as chancellor of Germany, a post that is equal to that of a prime minister, started way back in 2005 and she has promised to stay on until 2021.
While the entire public recognises her job as one of the most important in the world, many still believe her health should be a priority. The recurrence of her shaking in public has thus led many to speculate that there must be more to it than just dehydration or overheating.
Please fill in your e-mail so we can share with you our top stories!