Duane Chapman Lost Weight after Experiencing Difficulty Eating since Beth's Death
On June 26, 2019, Duane "Dog" Chapman confirmed that his wife and fellow reality star had passed away. Now as he plans her funeral he's revealed that he's struggling to deal with her death.
Beth Chapman, 51, the wife of Duane "Dog" Chapman, 66, passed away last month after battling throat cancer since late 2017. Her death has left Duane with the hard task of moving on with life without her.
According to the Dog the Bounty Hunter star, things haven't been easy for him. Her passing has greatly affected his health and eating habits.
DUANE IS LOSING WEIGHT
This week the reality star shared with Entertainment Tonight's Kevin Frazier that he'd since lost "17 pounds in two weeks." He revealed that "I can't eat. Two bites, I'm full. I got to force feed myself like I force fed her."
When she was still alive Beth was the one who helped him read the menus when they would go out to restaurants. He needed glasses to read them because the lighting in the establishments would usually be too dim.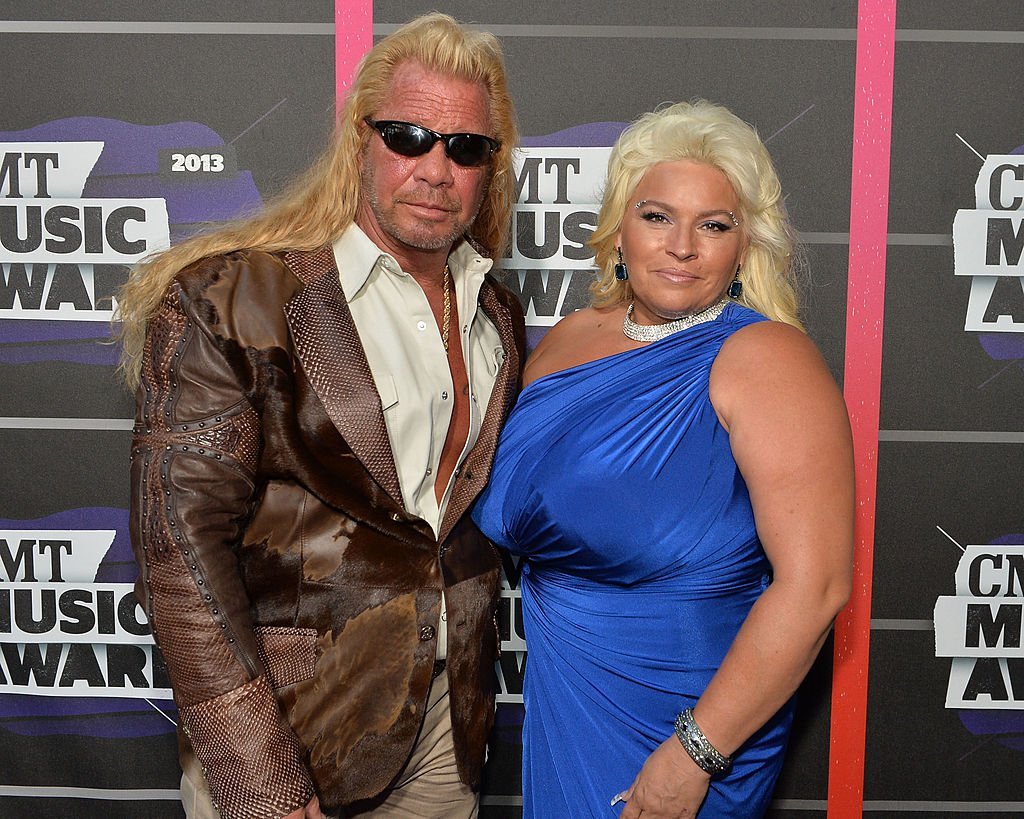 Duane admitted that he could still use glasses to read but now his struggle was that "can't see the freakin' menu." He shared how his wife chose his meals when he would ask "What do I want today, honey?"
The reality star confessed during the one-on-one interview at his Colorado home: 
"I never ordered…I'm having a hard time ordering food. I've lost 17 pounds. Chewing ice helps, and I've lost 17 pounds in about two weeks."
Love you all and thank you very much for the support you have been giving for Beth. We have tentatively scheduled July 13 in Denver to tuck her in, tell her goodnight, for she sleepeth. More details will follow... time, place, ect.

— Duane Dog Chapman (@DogBountyHunter) July 1, 2019
COPING WITH SLEEPING WITHOUT BETH
He also revealed that he was coping with her absence by "putting a pillow" where she used to sleep and "covering it up." When he woke up "in the middle of the night" he'd imagine that he saw her "and it doesn't register that [it] ain't her."
Duane admitted that he also woke up and would touch her when she was alive and sick. He shared the struggles they had stating: "I'd have to wake up a few times when she stopped breathing. I couldn't hear it no more."
July 13, 2019 -
Heritage Christian Center
14401 E. Exposition Avenue
Aurora, Colorado 80012 - Doors open at 1:00 Service starts at 2:00 pic.twitter.com/Htw4SKxDDl

— Duane Dog Chapman (@DogBountyHunter) July 1, 2019
The reality star recalled how in those moments he would tell her that she was "not dying like that. I will not let you die." Having to wake up to check on her became a routine that now he doesn't sleep throughout the night anymore.
"A WHOLE NEW LOOK ON LIFE"
Despite his daily struggles with her death, he shared that he had "a whole new look on life." He also confessed that he didn't have any suicidal thoughts and was "ready" to join Beth when his time came.
Losing his wife has allowed him to connect with other people over their own experiences. Duane shared how he'd met a man who told him 'Dog, you know I love you. I'm sorry, I lost my wife six months ago.'
The two men "hugged" and the reality star felt "a connection" that created a "brotherhood" bond between him and the stranger. He explained: "So when you go through something and somebody else [goes through the same thing], there's something there."
Duane revealed that he used his loss as a way to now help himself to be able to "help others."
It's 5:32 in Hawaii, this is the time she would wake up to go hike Koko Head mountain. Only today, she hiked the stairway to heaven. We all love you, Beth. See you on the other side.

— Duane Dog Chapman (@DogBountyHunter) June 26, 2019
CONFIRMING BETH'S DEATH
Beth's husband confirmed her death via a Twitter post on the morning of her passing. He revealed in the post that she'd died at Hawaii's Queen's Medical Center at around 5:30 a.m. with her entire family by her side.
A
service will be held for Beth
on Saturday at the Heritage Christian Center in Colorado.