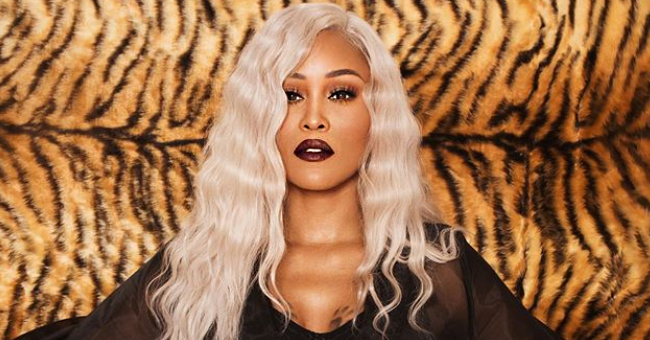 instagram.com/therealeve
Eve Rocks Platinum Blonde Hair as She Releases First Song in 6 Years 'Reload'

Eve shined brightly in a sheer black outfit and platinum blonde hair as she announced the release of her new single "Reload."
It's been years since Eve blessed her fans with new music, and after so many requests and pleas, the singer hit the studio and brought out something new.
EVE SHINED BRIGHTLY
Eve took to Instagram to share the good news of a new song with her fans, and she looked fabulous in the accompanying photo. The singer shined brightly in a sheer black outfit with a touch of tiger-print design, and platinum blonde hair parted at the side.
Eve wore makeup, gold wrist chains, and adorned her well-manicured nails with sparkly rings; the music star looked every inch a boss lady with her hands on her waist.
The singer wrote in the caption that she's so happy to be able to finally share her new music "Reload" featuring Konshens, a Jamaican dancehall artist, with her fans.
FIRST SONG IN SIX YEARS
The song dropped for the first time on BBC1Xtra and featured a new sound from the female rap artist. Eve for the past one year has teased her fans on the change in her regular tone.
The rap artist who has been spending most of her time in the UK revealed in an interview last year that she derived her new sound from afrobeat, the UK version of hip-hop, and reggae.
Although Eve is yet to announce the release of an album, she is working on a lot of singles in which she features mostly artists from the UK and the American, Dallas Austin.
"Reload" is the first single from the rap superstar since her 2013 album, "Lip Lock," and it came eleven years after she released "Eve-olution."
NO SISTERHOOD IN HIP-HOP
During her hiatus from the music scene, Eve signed on to the CBS daytime talk show "The Talk" which she co-hosts with Sheryl Underwood. In 2016, she joined the award-winning singer, Gwen Stefani, on her "This is What Truth Feels Like" summer tour as her opening act, and appeared as a guest star on the Oxygen series "Sisterhood of Hip-hop."
Despite appearing on the show, the singer once said she does not believe that women in hip-hop share a sisterhood, as they bring themselves down rather than help to lift each other.
Eve's new song speaks about leaving the past behind, and she has shown that decades may come and go, but she continues to be a force to be reckoned with.
Please fill in your e-mail so we can share with you our top stories!