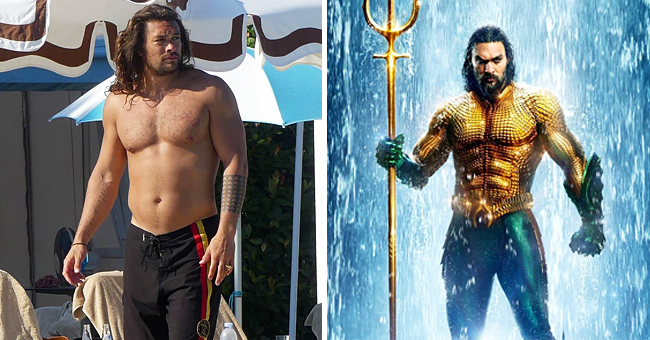 instagram.com/usweekly / instagram.com/aquamanmovie
Jason Momoa Was Body-Shamed for His Shirtless Photo from a Family Vacation

Some fans could not believe their eyes when Jason Momoa's shirtless photos from his family vacation in Italy do not seem to reveal abs.
A photo of the "Aquaman" actor shared on US Weekly's Instagram page drew various comments from fans.
"Needed to come home to Iowa and give my grams some aloha. Love you forever grandma."
"Omg, what happened to the abs?" a fan commented. Another body-shaming user wrote, "The abs are gone."
But the more loyal fans are quick to come to his defense. "OMG I don't understand why people are freaking out, he looks great," one wrote.
"HE'S JUST NOT FLEXING"
Another chimed in, "I guess those critics don't understand how anatomy works. JM is still in perfect shape. He's just not flexing and his muscles aren't swollen from exercising. If he did ten pushups and sit ups, all of the muscle definition would appear. Anyone who has done weights or hell, exercised a bit would know that."
The 39-year-old actor spent time with his wife Lisa Bonet and their children in Venice, Italy. The couple, who have been together since 2005, tied the knot only in October 2017.
They share a son and a daughter. Momoa also became the stepfather of Bonet's daughter Zoe Kravitz.
The family spends as much time in the outdoors where they learn about nature.
A FAMILY-ORIENTED MAN
Momoa is proud to be a family man. Recently, he shared a photo with his grandmother for his nearly 13 million followers on Instagram.
"Needed to come home to Iowa and give my grams some aloha. Love you forever grandma," he captioned the post, which has been liked more than 1.5 million times.
In the photo, both of them smiled from ear to ear. Another shot shows them looking out the window.
Momoa's career has been soaring over the last decade. Aside from "Aquaman," he also played Khal Drogo in the HBO fantasy television series "Game of Thrones."
Please fill in your e-mail so we can share with you our top stories!