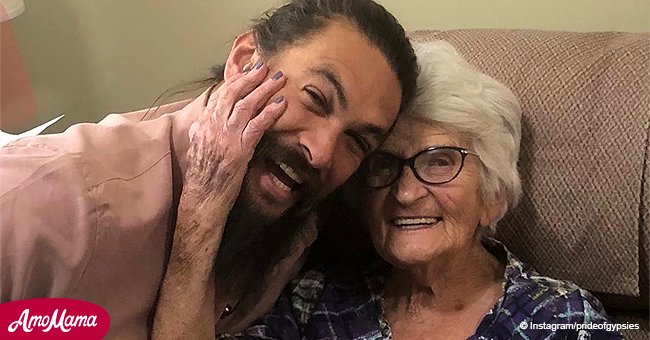 Jason Momoa's visit with his lovely grandmother will make your heart melt
Not only is Jason Momoa a Hollywood heartthrob, but he is also a family man that loves his grandma.
Jason is flying high as 'Aquaman' slowly edge to becoming the best earning DC Comics in film history as the money rolls in.
Jason Momoa is on top of the world. Many fans will remember him as Khal Drogo in 'Game of Thrones' while he also starred in 'Stargate: Atlantis,' 'Conan,' ' Frontier,' and 'Justice League.'
A week ago Jason went to pay his grandmother in Iowa a visit to catch up and posted a lovely picture of them together. Both smiled from ear to ear as the photo got taken and it's clear that Jason loves his grandma very much.
Both Jason and his wife Lisa Bonet value family, and the time they spend together. The couple spends as much time in the outdoors with their two children as possible, where they can learn about nature, and it's beauty while bonding as a family of four.
Lisa met Jason 12 years ago during his self professed wild days as she said:
"That poor woman met me when I was 26. I was a maniac. I wanted to do all of these things, but I didn't have an outlet, [...]. She's stuck with me through too many me's."
Even though the couple posts a lot of pictures of them as a family on social media, they still value their privacy and aim to stay as grounded as possible despite all the fortune and fame.
Jason takes great pride in the family he had built with Lisa and is proud of his roots. He admits to not currently being in the position where he can pick and choose his film roles, but that he always keeps his family in mind when decisions relating to his career needs to be made.
In a video that went viral, it showed Jason getting very emotional when he performed 'The Haka' dance with his children during the premiere of 'Aquaman' in Honolulu, Hawaii. Jason has strong roots from Hawaii and takes the Hawaiian traditions very seriously as he added:
"I'm half Hawaiian, and the haka is a very sacred thing, something your family teaches you - my father taught me."
During the premiere of 'Aquaman' in Los Angeles, Jason and the rest of the family showed up in support. But it was the PDA that had people talking.
51-year-old Lisa and 39 years old Jason could hardly keep their hands off each other throughout the night while looking at each other lovingly or kissing and hugging.
Heartwarming to see the couple still so in love after knowing each other for 12 years. Happy New Year to the lovely family!
Consider following if you are on Instagram. Or read more on our Twitter account @amomama_usa or both!
Please fill in your e-mail so we can share with you our top stories!