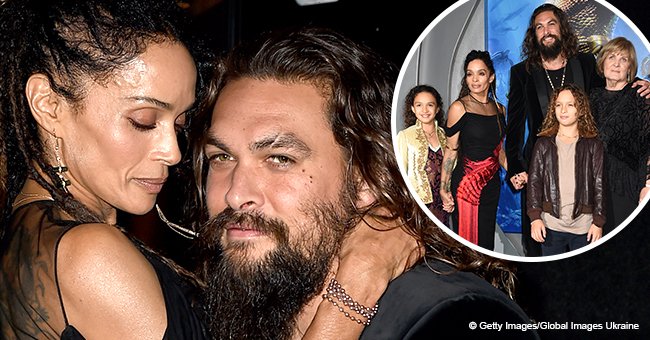 Jason Momoa packs on the PDA with wife Lisa Bonet, poses with mom and kids at 'Aquaman' LA premiere

Jason Momoa, best known for his role in the DC extended universe, went to the "Aquaman" premiere in Los Angeles with his wife, Lisa Bonet.
For the special outing, Jason put on an elegant black tuxedo and matching pants while his hair was let loose over his shoulders. He posed next to his wife, their children, and some other members of the film, flashing his infectious smile at the cameras.
One of the most interesting aspects of the outing was the multiple public displays of affection that Jason, 39, and Lisa, 51, showed throughout the night. They were photographed hugging, kissing, and looking at each other in the most adorable way.
Lisa also chose black for the premiere. She opted for an off-the-shoulder dress with a red sash that enhanced her beautiful physique. The couple's children, 11-year-old Lola and nine-year-old Nakoa-Wold, also posed for a couple of photos.
"AQUAMAN"
Not only Jason posed with his family, but also with a prop trident, similar to the weapon he is expected to wield in the movie, wherein he portrayed Arthur Curry, a superhero who will have to make a crucial choice to save the Atlanteans.
Even though the film is expected to hit theaters in the UK on December 14 and in the US on December 21, some reviews have already hit the internet. One of the most popular websites, Rotten Tomatoes, gave it a 75% score.
SURPRISING HER MAN
No matter how much Jason and Lisa love each other, the distance and time apart from one another are factors that could negatively affect any relationship.
While shooting "Justice League" and "Aquaman" in succession in Queensland, Australia, the pair could barely talk due to the shooting schedule, Jason's intense physical training, and the 17-hour time zone difference.
Thankfully, Lisa knew a way to improve the situation. She and their children secretly boarded a flight to Australia and surprised Jason on his 38th birthday. The actor uploaded a photo on Instagram setting clear that it had been the best surprise he has ever got.
"I have never been so surprised in my life. 38 is the greatest to date. I love u my love my babies my friends and OHANA to my cast and crew. Mahalo for caring. It was so beautiful. Mahalos to all the warriors It was an honor," wrote Jason in the caption.
SHOWING APPRECIATION TO LISA'S EX
Recently, Jason made headlines after posing next to Lenny Kravitz, Lisa's ex-husband wearing matching rings. To show his appreciation, the "Aquaman" star bought the musician a bone skull ring to match one he got for himself and posted a photo on Instagram.
Meanwhile, Lenny kept the bromance going by posting a photo of him supporting his ex-wife's husband. He shared a selfie where he's standing next to a sign bearing the actor's name and wrote, "My brother [Jason] is doing his thing right now on ['Saturday Night Live']."
Please fill in your e-mail so we can share with you our top stories!