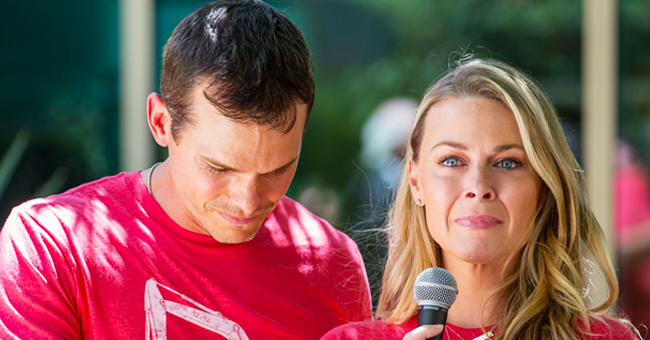 Getty Images
Granger Smith's Wife Needed Time Alone to Grieve 3-Year-Old Son River's Accidental Death

It has been a few days since the couple made the unthinkable announcement that their little son had drowned in his wedding pool.
The pain and grief of losing a child are never overcome. A mother never stops feeling a huge void in that place of the soul where she hugged her son. And Amber Smith is no exception.
A couple of days ago she decided to open her heart and share her grief with the followers of his family. In a post on her Instagram account, Amber speaks honestly and openly of her emotions.
They have received multiple expressions of affection and support from family, friends, and followers. They have felt embraced by the love and comfort of the people around them but they have never been alone with their sadness and their pain.
However, this weekend Granger was on tour for some concerts and the children were with relatives, so for the first time since the tragic loss of her baby, Amber had the opportunity to be alone with all her grief.
As she explains in the publication, she had to face this primitive, animal pain. She was allowed to experience it in fullness, with crying, despair and screaming. Only who has gone through such a bitter moment can understand what she is feeling.
And in the midst of her reflections and her pain, she shares with sincerity that she hopes to be able to support and help with her words at least one person who is facing a difficult moment and feels that there is nothing else.
Her purpose is to be able to move forward little by little and continue being a mother and a wife that enjoys the joy of living and the people she loves, although at this moment happiness seems to be far from her.
She recognizes that this tragic circumstance can distance her from her faith or bring her closer to God, and she has decided to run to Him.
Granger, for his part, has also taken advantage of the moments of solitude that the tour allows him to process the pain and the loss of his son in his own way.
Soon he will be back at his house and they will continue as a family together supporting each other, as he has shared on his YouTube channel.
To honor the memory of his son he has got a tattoo with decorated letters on the right forearm with the name of his son, River. This is a tender way to keep his child in mind at all times and visible to others.
In addition, they made a donation of $ 218,791 to Dell Children's Medical Center, where they treated River after his accident, product of the sale of T-shirts in honor of River. T-shirts are sold out, but they are considering to make new ones for the fall.
That would be their way of showing gratitude to all the fans and followers for all the attention that the family received during those hard moments.
Please fill in your e-mail so we can share with you our top stories!