Serena Williams Evades Question about Meghan Markle Controversy by Describing Their Friendship
Meghan Markle faces a lot of disapproval from the media for asking for privacy as she watched her best friend Serena Williams play at Wimbledon. The tennis star defends Meghan's stance, saying she "couldn't be a better friend."
The tennis champ, Serena  Williams came to the defense of the Duchess of Sussex, Meghan Markle after the backlash over her surprise appearance at Wimbledon
The 37-year-old royal, arrived with her entourage in a low-key ensemble, wearing a pair of jeans and sunglasses, and sat at court in the royal box in Centre Court, with rows of seats around her thought to be purposefully empty.
The new mom attended the tennis championship to support her friend, Serena Williams, in her second round match against  Kaja Juvan.
The Duchess of Sussex watches Serena Williams on court one on day four of the Wimbledon Championships.

📷Mike Egerton/PA Images - contact us at https://t.co/j6mRVjfV5k #MeghanMarkle #DuchessofSussex #royalfamily pic.twitter.com/GDqzfXvs1A

— PA Images (@PAImages) July 4, 2019
The Duchess of Sussex, Meghan Markle drew a lot of criticism for allegedly asking her protection officers to tell spectators not to take her picture because she was at the tournament "in a private capacity." 
The 23-time grand slam winner, Serena, when interviewed in a postmatch press conference about the Duchess' appearance at the match, and asked if her BFF, Meghan, will attend future marches, regardless of the fault-finding media, Serena replied that she was not aware there was a negative media out there.
The tennis champion, Serena Williams said:
"Any time I see her name attached to anything, I don't read it. She couldn't be a better friend to me. Low moments, high moments, she's always there. That's all I want to be to her." 
The two best friends have known each other since 2014, and Meghan Markle invited the talented athlete, Williams along with her husband Alexis Ohanian to her royal wedding ceremony to the Duke of Sussex in May last year.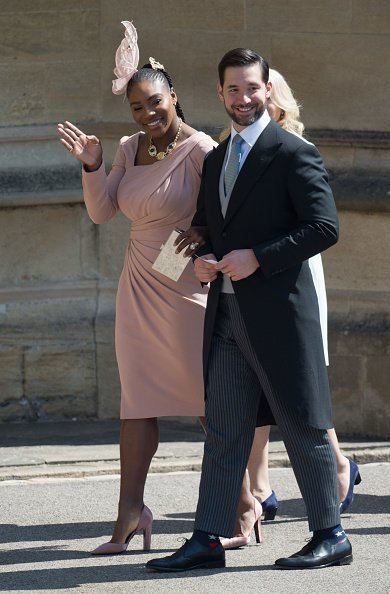 The Duchess of Sussex is set to make her first red carpet appearance since giving birth to her son  Archie Harrison, this weekend at the premiere of the highly anticipated Disney remake; The Lion King.
When asked during a press conference after winning the match,  if she knew the duchess was there among the spectators, Serena said:
"Yes I knew she was there, it's always exciting when she comes out to watch and support the tennis."
The star athlete added:
"I was happy."
As for whether Meghan will watch Serena play again, that remains unseen. After winning her match against opponent Barbora Strycova, the talented tennis player secured a spot in the tennis tournament's finals.