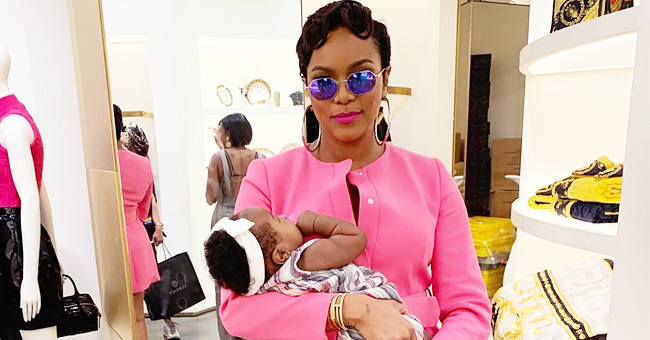 instagram.com/letoyaluckett/
LeToya Luckett Gets Real about Post-Baby Body Struggles, Gives Advice to Moms
Famous "Preacher's Kid" star Letoya Luckett only recently welcomed her first child with Tommi Walker. She recently adviced new mothers like herself out there.
The sterling beauty made an appearance at the Essence Festival, and it was there, she related her post-pregnancy journey. Unlike what many expected of her, the actress/singer tapped into her selfless side to give a motivational speech about how she managed to handle all her troubles with post-pregnancy body image thus far.
"REGARDLESS IF IT'S A NEW YOU… IT'S STILL YOU." – LUCKETT
Luckett and her husband of one year, Tommicus Walker, welcomed their first child, daughter Gianna Iman Walker early January this year. Because they are first-time parents, it is quite evident that the couple, most especially Luckett, faced significant struggles.
Her Friday speech on the stage of Essence Festival's Beauty Carnival focused on "self-love, self-care, and allowing yourself to be imperfectly beautiful." She attributed her ability to bounce back so fast to starting to appreciate herself more and learning not to feel disappointed in herself.
The 38-year-old further admitted that she felt pressured by the thoughts of being a celebrity expected to appear a certain way at all times and regardless of whatever circumstances. Now, she doesn't believe in that notion anymore and instead pushes that everyone is different.
"Everyone's journey is very different. We look in the mirror before we have a child and we're like, 'Oh, this is me, this is who I am. This is the LeToya that I know,'" Luckett said.
She further said:
"Then, you have the baby, and you're so excited. You go back to that same mirror, and you go, "Wait a minute. Who is this? What body?" But here's the thing, it's still you. Regardless if it's a new you, regardless if you put on a couple of pounds, or something's different. It's still you. It's you evolving, and that's what I have to keep in my mind.'"
HOW LUCKETT GOT BACK TO WORK SO SOON AFTER HER DAUGHTER'S BIRTH
It is with this healthy mindset that Luckett was able to get back to work just one month after Gianna's delivery. She explained that she started working so that she could flaunt her real self.
"I want people to see me in my most vulnerable state, and I need them to be able to relate because of a lot of times what you see on TV, a lot of time what you see on these stages, it's not even real. You have people that are suffering in silence because they don't want to accept their bodies or they're afraid of being bullied." – Luckett.
For other women in her shoes, Luckett detailed that making a bounce back into their normal activities will ultimately come to be as long as they "know the truth about yourself and speak a word of encouragement to yourself."
Please fill in your e-mail so we can share with you our top stories!