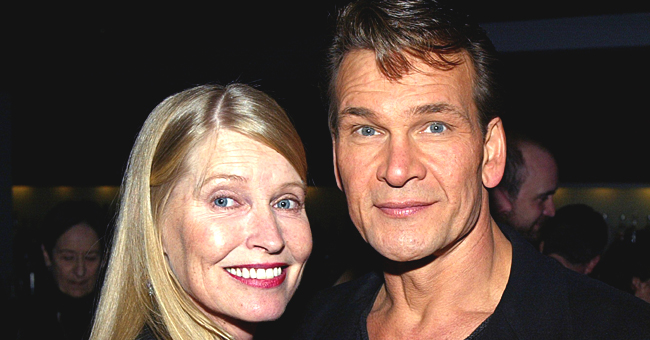 Getty images
Patrick Swayze's Widow Lisa Niemi Honors Him on What Would Have Been Their 44th Anniversary

Lisa Niemi, the widow of veteran actor and musician, Patrick Swayze recently took to social media to commemorate what would have been their 44th wedding anniversary.
Niemi, who is also an actress like Patrick was, shared a picture of herself and the late star via Facebook on June 12.
The image appears to have been taken on their wedding day as the adorable couple were pictured in front of a priest and with Swayze smiling so lovingly at his bride.
NIEMI IS REMARRIED, BUT SHE CAN NEVER FORGET SWAYZE
Swayze was all suited up for the occasion in a light grey suit accessorised with a flower corsage and with his hair styled the old fashion way.
There really couldn't be a better way for Niemi to remember the deceased actor than this. The svelte beauty was also accordingly dressed in a sleeveless white dress and with a bouquet in her hand even as she held onto Swayze in the picture.
The couple shared a tender moment in the photo, one that comes through especially now that Niemi posted it to remember the "Dirty Dancing" star.
Her caption was even more heartwarming as she explained that milestones like their anniversary would always make her sad, but this time, it is all different. Niemi said:
"Remembering a wonderful man today, and what would have been our 44th anniversary. Use to be these events laid-me-out for weeks. But this afternoon I'm feeling melancholy, but full of love and celebration for what we had and what still lies in our hearts. Love doesn't die. He still makes me smile."
Netizens took to the comments section to send words of comfort to Niemi and to laud her affectionate display.
SWAYZE'S LAST KNOWN WORDS ABOUT HIS LOVE FOR NIEMI
At the time of Swayze's death on September 14, 2009, he and Niemi had enjoyed 34 years of marriage. That was no mean feat considering how widely popular they were on the entertainment scene.
Many celebrities of Swayze's calibre are typically known to have marital troubles but not the actor. He loved Niemi, who he had known since he was a teenager, until his untimely demise. The handsome entertainer said at a time after he had been diagnosed with stage IV pancreatic cancer:
"She literally is my creative partner. There just feels like there's a real power between us, like there's a real chemistry like we're soulmates."
It is love like theirs that many yearn for but can never seem to find. May Swayze's soul rest in peace.
Please fill in your e-mail so we can share with you our top stories!