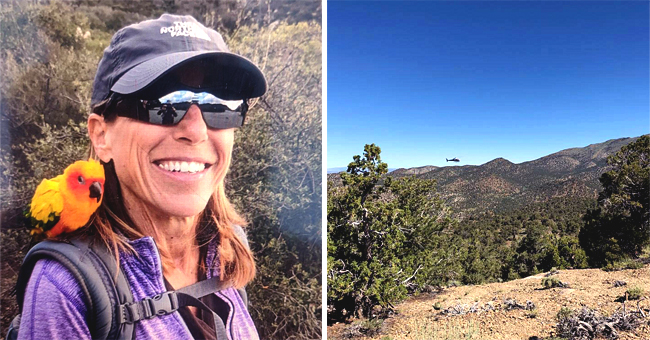 facebook.com/Inyo County Sheriff's Office
Californian Woman Found 'Alive and Well' 4 Days after Going Missing in the Forest

Sheryl Powell, the woman from California who went missing on July 12, has finally been found safe and sound alongside her dog, Miley, who alerted a team of searchers.
The 60-year-old was missing for four days and the announcement that she had been found was made by the Inyo County Sheriff's office through their Facebook page.
It has been reported that Sheryl is an experienced hiker and her knowledge and set of skills allowed her and Miley to survive in a remote area of Big Pine.
HOW THE NIGHTMARE STARTED
The Huntington Beach resident went missing while camping with her husband, Joe Powell, at the Grandview Campground, in the Bristlecone Pine Forest area.
According to the police, they stopped at a remote campsite to give their dog a bathroom break. After an hour of searching for his wife, Joe called the authorities through his satellite phone.
Ground search teams were immediately deployed and soon were joined by canine teams. Aerial reconnaissance was also provided to help search for Sheryl.
After searching for days, the 60-year-old was finally found when Miley's barking attracted some of the rescuers, who then swept the area near the Montenegro Springs and found where the woman was.
A SHOCKING DISCOVERY
Her son, Greg Powell, claimed Shelly was chased by a man with a knife, who threatened to hurt the dog "if she didn't give him what he wanted." Afraid of being raped, she took off running.
Sheryl reportedly managed to lose the alleged attacker by avoiding the main roads but ended up lost, being forced to survive off stagnant water and cactus fruit.
Her knowledge and set of skills allowed her and Miley to survive in a remote area of Big Pine
The family later shared a photo of Sheryl in the hospital to celebrate her return but the police are still investigating the case to understand exactly what happened.
A SAD ENDING FOR AN ELDERLY WOMAN WHO GOT LOST
Unfortunately, not all cases have a happy ending. Earlier this year, Lina "Pat" Toot, from Virginia, was found dead in a creek near her home after she was reported missing.
The 83-year-old suffered from dementia and confusion and it is believed that she left her home one day and got lost. The alert was given by her family members, who found the door to her house wide open.
The authorities looked for Toot for six days, only to find her body half-a-mile away from home. According to County Fire Chief Jack Jones, the search was hindered by the strong winds and heavy rains.
Please fill in your e-mail so we can share with you our top stories!