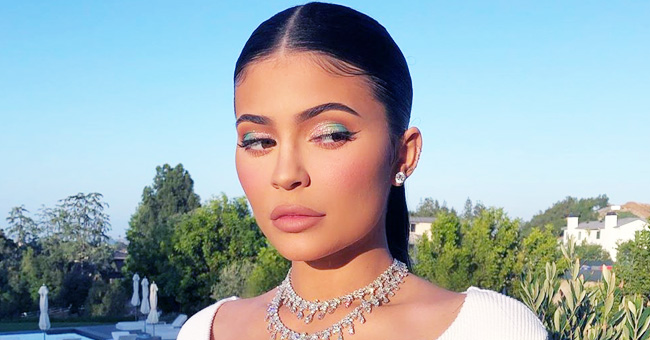 instagram.com/kyliejenner
Kylie Jenner Accused of Photoshopping a Snap of Herself
Caught on camera! Kylie Jenner's followers showed no mercy as they accused her of photoshopping a photo of herself wearing a tight one-shoulder dress.
Everyone who uses social media knows that having a picture fail is a no-no, but it is worse when a photoshopped picture gets discovered, and cosmetics billionaire, Kylie Jenner, is on the receiving end of a photoshopping accusation.
Jenner, who is in the Turks and Caicos Islands, enjoying the summer sun, shared two different posts of herself with new BFF, Anastasia Karanikalaou.
In the first post, the young billionaire dressed in a tight baby-blue one-shoulder dress, posed on a daybed with striped pillows, sitting beside Anastasia. While the KUWTK star looked stunning, her followers were quick to point out that the photo was photoshopped.
One follower, accusing Jenner, asked her to make sure the next time she wants to alter a photo, that there are no striped pillows in the background. Another called it madness to post a photoshopped picture on Instagram, exclaiming, "Oh no!"
In the second post, the cosmetics mogul still wearing the same outfit walked beside her BFF; the grass and the concrete slab underneath her arm appeared bent, making Jenner's followers accuse her of altering her photo, the second time.
One follower wrote, "Body looks the same, know what that means, right?" while another commented that the reality star does not look like her real self in photos because she alters them.
The mum-of-one traveled to the tropical Island with her daughter, Stormi, boyfriend, Travis Scott, friend, Sophia Richie, makeup artist, Ariel Tejado, and assistant Victoria Villarroel.
The group traveled in style, using a private jet with the emblem of Jenner's new skincare line "Kylie Skin Summer Body Collection," and they got treated to silk pillows, eye masks, and cozy blankets.
The group also wore matching tye and dye pajamas, and have been staying at a private villa with a pool. They've also taken part in water-sports and have spent a lot of time on luxury yachts.
Back in May, the Forbes proclaimed self-made billionaire got accused of altering her photo from the Mets Gala by making her waist look slimmer than usual.
A month earlier, after the release of promotional photo for season 16 of KUWTK, Jenner and her sisters were equally accused of editing the picture and giving her sister, Courtney an extra toe.
Jenner has not responded to the accusations and seems more focused on enjoying her vacation and promoting her skincare line.
Please fill in your e-mail so we can share with you our top stories!