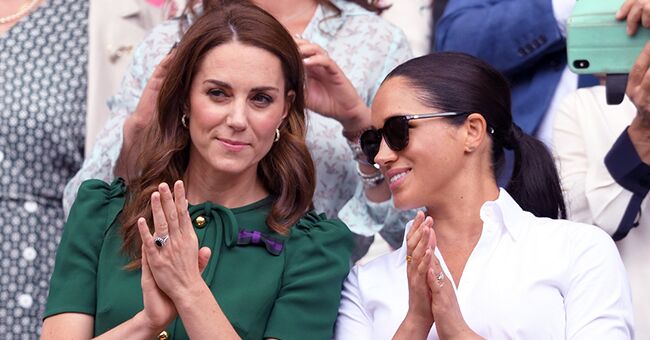 GettyImages/GlobalImagesUkraine
Duchesses Kate Middleton and Meghan Markle's 'Relationship Is Strengthening,' According to a Royal Expert
Now that Meghan is a mother like her sister-in-law Kate Middleton, the pair have more in common and are developing a better relationship.
The past year has been filled with controversies and allegations concerning the relationship between Duchesses, Kate Middleton, and Meghan Markle.
The women, who are from different backgrounds were put head to head against one another, and while Kate was battling the hassles of motherhood, Meghan was busy adjusting to her new life as a royal. In short, they didn't have much to share, which frustrated admirers.
However, reports have revealed that the pair are now on better grounds as they now share the bond of motherhood. Meghan welcomed her first child with Prince Harry a few months back, thus offering the pair something in common.
While speaking to PEOPLE, a royal source disclosed:
"There is a sense of [Meghan and Kate's] relationship strengthening,"
Reports from another royal source and observer also stated that the pair were very friendly with one another when they attended the Wimbledon women single's final. When Serena Williams, who is Meghan's close friend lost, Kate rubbed her sister-in-law's back to console her.
While airing her opinion on the incident, royal commentator, Victoria Arbiter stated:
"it illustrated a warm relationship between these

women who have young babies and are in similar

situations in their lives,"
The past few days have also witnessed both of the Duchesses children going on their first play date together.
DID THE DISTANCE INFLUENCE THE ADORABLE BOND
Before news of the pair's newfound better relationship, the atmosphere was tense for royal fans. Mainly because Meghan and Prince Harry decided to move out of the Kensington Palace where William and Kate lived with their kids, and move to Frogmore Cottage in Windsor Castle.
News of rivalry grew and was further strengthened by the royal's decisions to separate their joint offices and leave the foursome's Royal Charity Foundation.
However, the mood is now better, and as disclosed by an insider, the distance has bettered their connection, thus "allowing them more time to be like family" instead of colleagues,
Please fill in your e-mail so we can share with you our top stories!