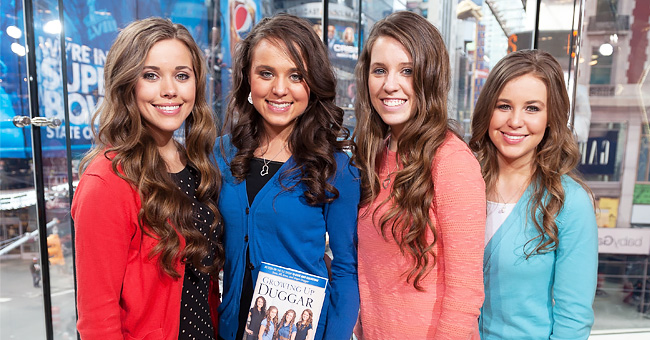 Getty Images
A Guide to All the Duggar Brides and Their Dresses

So far eight Duggar children are married. Their weddings were all televised affairs and each one has posted a glimpse of their special day online.
First Josh and Anna tied the knot. They were quickly followed by Jill and Derick Dillard, and Jessa and Ben Seewald.
Then Jinger and Jeremy Vuolo walked down the aisle and Joy and Austin Forsyth followed them. After that was Joseph and Kendra, Josiah and Lauren and finally John and Abbie. The following list shows each of the Duggar brides in their wedding gowns:
1. Anna Keller
The first couple to tie the knot in the Duggar family was the eldest Duggar son, JoshDuggar and Anna Keller. They met at a Christian homeschooling conference and tied the knot on September 26, 2008.
She was escorted down the aisle by her dad, Mike Keller. She borrowed her dress from one of her sisters.
It was a simple, A-line dress made from white satin with short sleeves, covered buttons, and a detachable train. She finished the dress off with a homemade, elbow-length veil.
2. Abbie Burnett
One of the more recent weddings was Abbie Burnett to John Duggar. Abbie wore a "sparkly" gown designed by Renee's Bridal in Kentucky.
The dress came with an interesting story. Since their wedding was rushed, Abbie had 25 days before the wedding and could not go to Kentucky. Instead, her future sisters-in-law created a makeshift wedding gown shop and brought the designer to Abbie.
3. Jill Duggar
Jill Duggar married Derick Dillard on June 21, 2014, She opted for a "modest, yet elegant" wedding gown. The entire dress was lace.
It was made by Allure Romance. The stunning dress boasted Swarovski crystal beading, a ruched satin sash, and a massive train. It was customized to fit Jill's modest needs.
The lace from the veil was used to raise the neckline and create cap sleeves. It was completed with an elbow-length, lace-trimmed veil and diamond necklace.
4. Jessa Duggar
Jessa Duggar and Ben Seewald walked down the aisle on November 1, 2014. Jessa shocked fans by opting for a stunning blush pink ballgown from Allure Modest instead of a traditional white gown.
The stunning pink dress featured a satin bodice Swarovski crystals and pearls. It also had a gorgeous tulle skirt. She completed the look with a headband, a matching bracelet, and a simple veil.
5. Jinger Duggar
On November 5, 2016, Jinger Duggar married Jeremy Vuolo. For her walk down the aisle, she wore a stunning, vintage-inspired lace ballgown.
It had a jaw-dropping 13-foot train and was designed by Renée Miller. The elegant gown also featured three quarter length lace sleeves and covered buttons.
She had her hair styled in an updo with a dainty headband. Her outfit was completed with a bracelet, bright pink floral heels, and a veil.
6. Kendra Caldwell
Kendra Caldwell married Joseph Duggar on September 8, 2017. Her stunning dress was a Renée Miller custom ballgown.
It featured a crystal and sequined bodice with cap sleeves and a chapel train. The skirt was a ruffled "horse braid" hem that had fabric from her mother's wedding gown.
Kendra's outfit was completed with a sparkly bracelet, rings that Joe gave her, and a crystal trimmed veil and blusher.
7. Lauren Swanson
Lauren Swanson and Josiah Duggar married on June 30, 2018. She wore a gorgeous white boatneck gown and completed the look by styling her hair with delicate pearls in her curls.
She revealed that her gown was "exactly what I wanted. I loved the shape, the color, the veil. I am so glad I found it!"
8. Joy-Anna Duggar
Joy-Anna Duggar and Austin Forsyth married on May 26, 2017. She wore a custom Renée Miller wedding gown.
It featured an A-line silhouette with lace and lace appliqués. It featured a modest scoop neckline, three–quarter sleeves, and a long train. She also had heart-shaped swatches from Michelle and Roxanne Forsyth's wedding gowns sewn into the gown's lining.
Joy completed her outfit with an elegant pair of ballet flats and the necklace Austin gave her. She wore a lace-trimmed veil and a lace hair clip on her head.
Please fill in your e-mail so we can share with you our top stories!