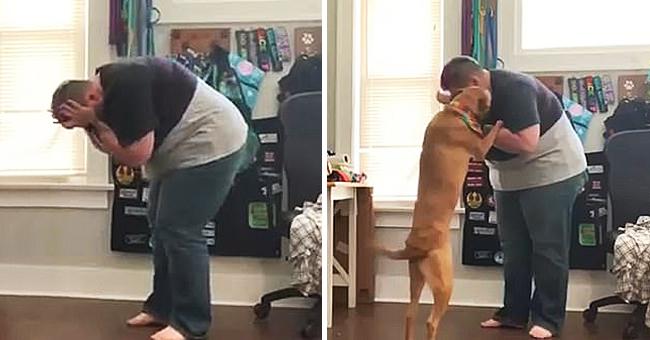 youtube.com/RM Videos
Service Dog Helps Owner End Panic Attacks by Jumping on and Cuddling the Woman

A service dog once again proved that dogs are indeed man's best friend with his heroic act. The dog, sensing his owner was having a panic attack, rushed to her and cuddled her until she was calm.
A video which shows a dog cuddling his owner to stop her from going into a panic attack is fast going viral.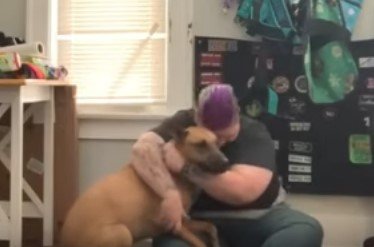 Photo of Man and Dog | Photo: Youtube / RM Videos
HEROIC ACT FROM A HEROIC DOG
The video shows the woman, seemingly uncomfortable, covering her face and walking back and forth. She also bends at intervals, still clutching her face.
The dog, having sensed his owner's discomfort, arrives at the scene in a flash and runs to her. It then begins to jump at her and cuddle her.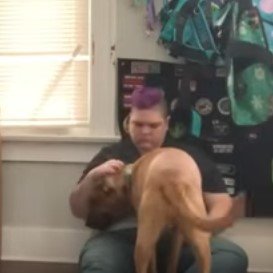 Photo of Man and Dog | Photo: Youtube / RM Videos
The dog keeps doing this and finally has his way. Soon enough, he gets the woman to sit on the floor and continues to cuddle and comfort her.
After a while, the woman, now calm, begins to hug and kiss the dog, who is now enjoying the returned favor and frequently changes his position. After some time, the pair get up, and the video ends.
DOGS, HUMANS AND PANIC ATTACKS
While it is not clear as to why the woman went into a panic attack, the phenomenon is not new. Panic attacks occur when there is a sudden feeling of anxiety.
They are known to last for about five to thirty minutes. They also lead to symptoms such as irregular heartbeats, shaking, and sweating.
Service dogs are trained to give practical and emotional help to people known to have issues relating to anxiety. They are known to have the ability to detect the signs of an anxiety attack before its occurrence.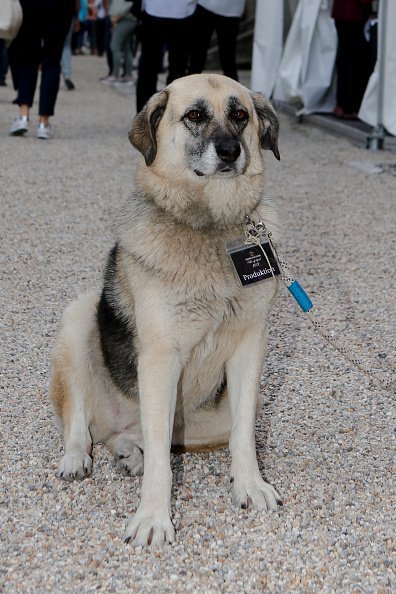 Photo of a beautiful Dog | Photo: Getty Images
Hence, they act fast, by either fetching medication, calming the victim, as the dog in the video did, or getting someone to help.
Dogs possess an innate ability to read people in ways that even humans can't. With a somewhat sixth sense, a dog can easily tell when an individual is afraid, happy, or sad.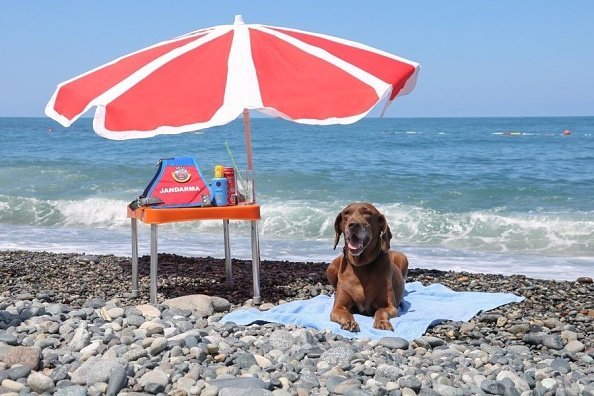 Photo of a beautiful dog | Photo: Getty Images
Dogs are also known to share a special bond with humans, and this is seen in the many ways they spend time together. Humans also love the comfort provided by a dog's love, as it is not comparable to that of any other. These and more qualities make dogs a great help in calming panic or anxiety attacks.
Please fill in your e-mail so we can share with you our top stories!