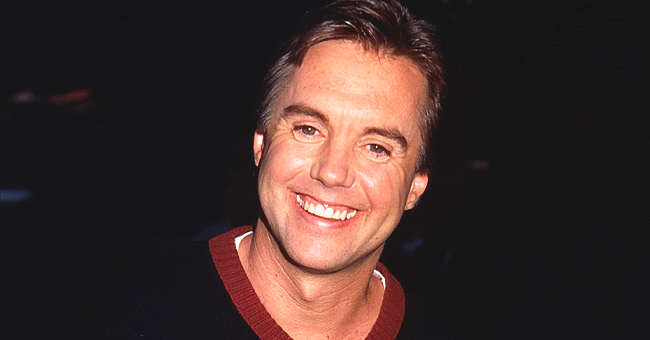 Getty Images
Shirley Jones' Son Shaun Cassidy Shared a Photo of Look-Alike Eldest Son & His Fiancée

Veteran actor and singer, Shaun Cassidy took to social media to pridefully share that he "can't wait" to watch his eldest son, Jake and his fiancee tie the knot.
Shaun is a father of eight, and he never tires of taking pride in his large brood. On May 19, the famous entertainer took to Facebook to share a photo of Jake, who is in his early thirties, and his soon-to-be wife, Georgie.
SHAUN CASSIDY INTRODUCES HIS SOON-TO-BE DAUGHTER-IN-LAW
The picture was taken the day before Shaun posted it at one of his stage performances. The joy on Jake and Georgie is quite infectious as the pair were both pictured happily smiling.
They were formally dressed and yet managed to look relaxed as they stood close for pictures. Jake attended the event wearing a black jacket, with a striped navy blue/white shirt underneath it, and matching trousers.
Jake got the fresh American look just right thanks to his elaborate hairstyle and his bearded face. His gorgeous fiancee was no less eye-catching, and she wore a striped cream and black long-sleeved shirt atop brown pants.
Jake and Georgie looked so perfect with their arms about each other hinting at the affectionate intimacy between them.
Aside from the joyous expression on the couple, the one other thing that is most obvious from the shot is the uncanny resemblance between Jake and his award-winning star father.
Back in his heydays, Shaun had the entire media and a significant number of the public head over heels for him. He was the heartthrob of the press because asides his talented singing, he had the dashing handsomeness to boot.
Jake, who is a product of Shaun's very first marriage, seems to have inherited the dashing looks from him and Shaun couldn't be more proud. The 60-year-old star penned down a sweet message showing support for Jake and Georgie. Shaun wrote in his caption:
"Among the many treasures at last night's show were my eldest son, Jake, and his fiancé', Georgie. I can't wait to call this amazing young woman my daughter-in-law. Hope you guys who were there had a good time. I did!"
OH, WHAT MANY WOULD DO TO BE IN GEORGIE'S SHOES
Georgie is sure one lucky woman, not only because she has Shaun's backing, but because she gets to marry into a star-studded family like the Cassidy's! If you didn't already know, Shaun comes from a family of award-winning entertainers.
His parents are Academy Award-winning actress Shirley Jones and Tony Award-winning actor Jack Cassidy while his older half-brother was David Cassidy. Shaun credits his family with helping him stay grounded. He says,
"In my family, it's like you come from a family of plumbers and go into plumbing. Not such a big deal."
Still, Shaun reiterates that his family never pressured him to go into show business and that has structured his parenting, making him one to actively support whatever career path his kids chose.
Please fill in your e-mail so we can share with you our top stories!