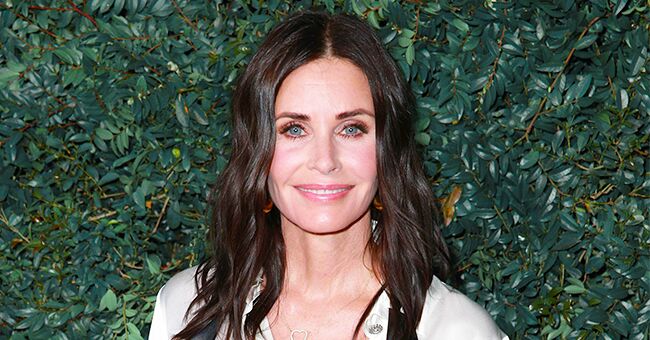 Getty Images
Courteney Cox Looks Stylish in a Fun Pool Video

Courteney Cox loves to show off her perfect summer body, and her most recent prideful show on Instagram is fast going viral.
The famous "Friends" star took to Instagram to share a short video clip of herself having fun in the pool. The video lasts for a short time, but it is enough to leave a lasting impression on the viewer and has thus become popular.
The clip features Courteney skimpily clad in a two-piece swimsuit and a jacket, an ensemble that is only completed at the end of the clip because it plays in reverse mode.
Starting outright, Courteney is taped falling into the pool, but the post is done in reverse so that the gorgeous actress makes a jump out of the pool and back to the terrace and, gets her black jacket back on. The clip comes to a close with someone giving her a cold drink and getting her sunshades back on.
The unique video plays out to Missy Elliott's hit single, "Work It" playing in the background which was just the right fit to accompany the "cool girl" aura about Courteney in the short clip.
Although just a day old, the clip has amassed well over two million likes and thousands of comments as netizens couldn't hide their awe. The video can indeed be labeled an epic one not just because of Courteney's enviable physique or surroundings but because of the cool reverse mode of the clip.
You'd have to agree that it is not every day you find a 55-year-old mother of one that is as cool as this! Courteney sure knows it, and she captioned the video writing:
"Oh so now I finally get what @missymisdemeanorelliott meant by put your thing down, flip it, and reverse it....only took me ten years."
The video has now gone viral, and the reactions are just as epic considering that quite a number of them are coming from top figures like Courteney herself. The long list includes Kaley Cuoco, Isla Fisher, Allison Janney, Busy Phillips, and many others.
Erin Foster, @erinfoster, commented:
"I don't know what's cooler, this video or how good your body looks."
One fan, @hanapotpotpot wrote:
"One of the most amazing post on IG."
The video has sparked a revolution of sorts with many people coming out to make a declaration that they would try doing it too. One thing that's for sure, however, is that nobody can do it like Courteney.
Please fill in your e-mail so we can share with you our top stories!