Beth Chapman Was Proud of Her Last Work with 'Dog the Bounty Hunter,' According to Daughter Cecily
In September, fans will get to watch recently-deceased reality star Beth Chapman star go on a chase for America's most wanted fugitives alongside her hubby. Her daughter has come forward to reveal that the season is one Beth was indeed proud of.
Via her Instagram story, Cecily Chapman, the product of Beth's previous relationship before her 2006 marriage to Duane, shared a short clip of her mother during the filming of "Dog's Most Wanted."
The video is a trailer of the soon-to-premiere WGN America show. In the picture, Beth is seen seated beside her hunky husband. Although uncertain whether they planned it, the lovely pair wore matching black round necked tops and dark sunglasses. The coordinated ensembles made sure that the couple still stood out amidst their work team.
The post is a rather emotional one for Cecily as she noted that starring in "Dog the Bounty Hunter" despite being terminally ill was an excellent choice for Beth. Alongside a heart emoji, Cecily wrote the words, "her last work, she was so proud of this show/season," in all caps, at the top of the short video clip.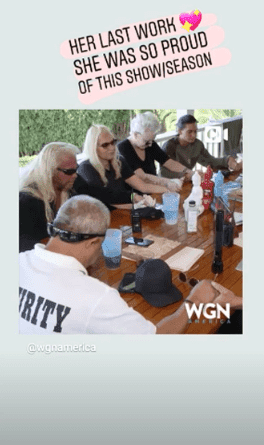 WGN America first released the trailer on Monday, July 22. It is somewhat nostalgic for fans of the show considering that Beth's untimely death, aged 51, was only last month. That makes the new show one that will forever be cherished by her fans as it captures her final days hunting down criminals. Beth said in the new trailer:
"Once you find out its incurable lung cancer, there's no stage 5."
The teaser also featured 66-year-old Duane getting teary as he spoke about his wife. He said while trying hard to stop his tears:
"I love her, and I'll do anything for her."
The legendary bounty hunter publicly released a statement to air his decision to continue work as that is what Beth would have loved. He fondly said:
"My wife is, was, and always will be the heart and soul of Dog's Most Wanted."
He further disclosed that the bubbly beauty, who passed away from complications of throat cancer, "wanted nothing more than for the show to go on."
On an emotional note, the father of twelve expressed pride in the legacy Beth left behind and reiterated that she "lived and died" for the show and that she would surely be proud to see that they have worked so hard to nab the criminals.
Beth will be sorely missed on the show, but it is admittedly admirable that Duane has chosen to be active by continuing with the show.