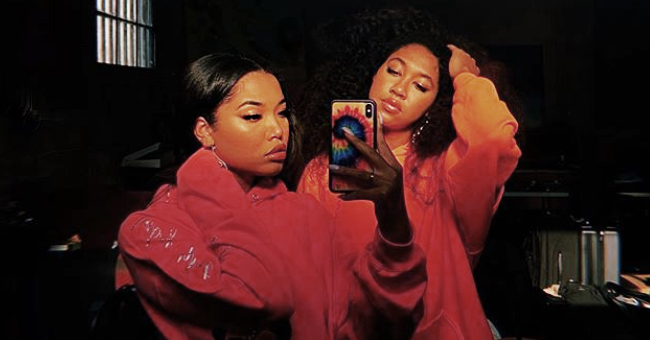 instagram.com/aokileesimmons
Aoki Lee Simmons Defends Sister Ming Lee from Swae Lee's Alleged Girl in Heated Clash

Aoki Lee Simmons stood up for her sister, Ming Lee Simmons after being cyber shamed by Rapper, Swae Lee's girlfriend.
It was a huge shock for the girlfriend of rapper, Swae Lee when her attempt to troll the nineteen-year-old daughter of American entrepreneurs Kimora and Russell Simmons, backfired and earned her a terrible bout of public bashing, and a full-fledged lecture from Ming's younger sister on manners.
WHAT LED TO THE EXCHANGE
The nineteen-year-old YouTuber earlier posted a suggestive photo of her and the rapper on Instagram. The photo showed the teenager, closely beside Swae, with her tongue stuck out as if to lick his chin. Apparently, the rap artist's girlfriend questioned her boo about it via text, and he alleged that it was an old photo.
The embittered girlfriend, however, did not stop at that as she went ahead to upload a screenshot of the text conversation on social media. The shot, which was posted on the "@theshaderoom" account was also accompanied by a derogatory caption which read:
"Imma leave that at this, but let her know that she is welcome to join us… I mean she bigger than both of us but we can work it out. Mad weird. Like did her mother raise her to be aside butch or she wanna smack on this p***y too lmk."
AOKI CAME TO HER SISTER'S DEFENCE
The attack on Ming and her mom was not taken lightly by sixteen-year-old Aoki Lee. The beautiful Simmon sister came at the rapper's girlfriend immediately for the affront on her mom and elder sister. Her reply put the hasty Ortiz in her place, but not without drama.
The sixteen-year-old clarified that neither her mom nor her sister was a desirable target for cyber trolling, after implying that she would speak in simple terms because Ortiz was uneducated. She also said that her sister was not to blame if the rapper's girl could not keep her boo faithful.
THE LAST SHOT
Following Aoki's reply, Ortiz made the mistake of sending a followup message to justify her earlier shot, while bragging about owning a college diploma. This earned her the unexpected blow from the sixteen-year-old.
"Sis, it's a college DEGREE, so let's start there. This is so funny to me, who even ARE you? All you have in life is a man who considers your feelings 15% of the time, and the rest of the time just ignores you. It's sad that you have no respect, no career, what are you proud of in life?"
The troubled teenager went on to brag about her successful mom and brothers, stating that her brothers, aged four and ten, had more going on for them in life than Ortiz ever will. She also called out the insecure girlfriend for her (Ortiz) abominable grammar and advised her to get some possessions of her own.
This would not be the first time Marliessa Ortiz would take to social media to address her relationship issues. She has been known to be battling insecurities over her boyfriend's continued infidelity, and on previous occasions has even threatened to harm herself, while releasing intimate pictures of the rapper on social media.
It is no wonder social media users joined Aoki in blasting the rapper's on and off girlfriend. Ortiz learned her lesson the hard way; never mess with the Simmons.
Please fill in your e-mail so we can share with you our top stories!