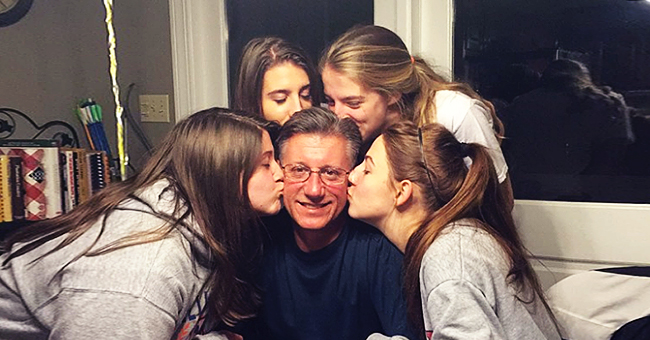 facebook.com/julie.pepperman
Family Mourns Father Who Drowned after Saving Three of His Daughters from a Riptide

Fred Pepperman, a 53-year-old father of four, passed away on July 14, 2019, after saving three of his daughters from a strong riptide in Seacrest, Florida.
Even though Fred was with 17 family members vacationing at the beach, none of them could anticipate the terrible fate that he was about to face. According to Colette James, the victim's sister-in-law, Fred had just settled into his beach chair when the trouble began.
From his spot, he saw that Grace, his 16-year-old daughter, was being drifted to the left and couldn't control the situation. Fred's older daughters, 20-year-old Olivia and 24-year-old Kathryn, tried to help their sister but were also swept away by the strong current.
TAKING HIS DAUGHTER OUT OF THE WATER
The brave man rushed to the water to help them and, thanks to bystanders and family members, they made a human chain to get them out. Colette pointed out that everyone was screaming for someone to call 911 and that there was no lifeguard on duty.
Colette also recalled Fred's last words: "I got you." Once he knew that his daughters were out of danger, "he was simply too exhausted to worry about himself. His body was worn out," wrote Fred's wife, Julie Pepperman, on Facebook.
TERRIFYING OUTCOME
Unfortunately, when a bystander managed to pull him to shore, he was unconscious. Even though he was taken to the Sacred Heart Hospital on the Emerald Coast soon later, he was pronounced dead.
According to Colette, their family is from out of town and didn't know what the double red flags that were flying on beaches that day meant. She added that "every hotel and Airbnb need to put a sign on the door with explaining what each flag means."
RECOGNIZING HIS HEROIC ACTION
In Julie's post, she pointed out that her husband gave up his life to save his family and that, if Fred wouldn't have rescued their daughters and her, all of them "would have been lost."
"You did good, Freddie. Our girls are safe. You saved your family. You are a good man, through and through. We love you and our hearts are breaking!" shared Julie before thanking her family for their support.
Fred is not the only "hero" whose action prevented someone from drowning. Stephanie Swedberg, a former lifeguard and swimmer, saved a boy at Crystal Beach Park in Minnesota. She was 33 weeks pregnant.
When Stephanie saw a woman fully dressed trying to get in the water and asking for help, she noticed that the boy couldn't keep his head above the water, so quickly helped him and was hailed a hero.
Please fill in your e-mail so we can share with you our top stories!