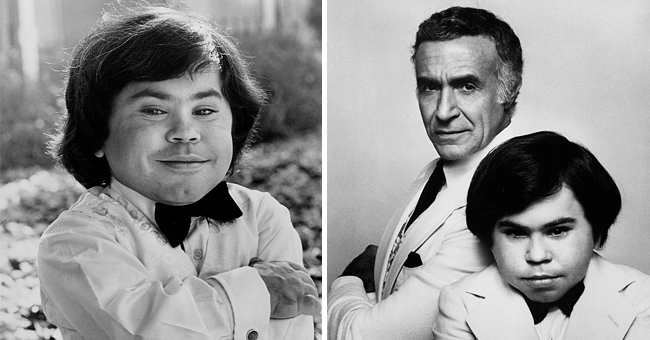 Wikipedia.
Struggles and Tragic Death of Actor Hervé Villechaize Who Portrayed Tattoo on 'Fantasy Island'
Hervé Villechaize became known as Mr. Rourke's sidekick on "Fantasy Island," but behind his comical public persona lurked a depressed man who struggled to cope with his body's restrictions.
"Fantasy Island" aired from 1978 until 1984, a time during which Hervé's health and size-related issues had already become unbearable.
"I dread not to see tomorrow. I dread dying. But I will die. In not too many tomorrows," Hervé wrote in his 1983 proposal for his never published autobiography.
At 3 feet 11 inches tall, Hervé grew up with three normal-sized brothers in Toulon, France. His surgeon father, Andre and British mother Evelyn tried everything to help him as a child.
"I was injected with bone marrow from sheep in Germany; I was studied at the Mayo Clinic in America. Then one day when I was 13, I said, 'That's it. I don't want anything done to me ever again,'" Hervé recalled.
As a talented artist, Hervé attended Beaux-Arts School in Paris from the age of 16 until he moved to New York four years later to continue his studies.
Acting soon followed as Hervé started appearing in off-Broadway plays and avant-garde films and married Anne Sadowski in 1970, however, nine years later they divorced.
His break into television came in 1974 when he starred as Nick Nack, Christopher Lee's sidekick in James Bond's "The Man with the Golden Gun." The role led to his later casting in "Fantasy Island" in 1978.
The actor's marriage to his second wife, Camille Hagen followed two years later, but their marriage also ended in divorce in November 1982. Camille accused the actor of firing a pistol at her and pushing her into the fireplace at their San Fernando Valley ranch.
A five-year banishment from "Fantasy Island" followed after Hervé started a salary dispute. In the depths of depression, he turned to alcohol and consequently missed acting offers until their dried up.
An arrest in 1985 followed when Hervé got fined $425 for creating a disturbance at a Burbank, California hospital after police found a loaded handgun in his suitcase.
According to his first wife, Anne, Hervé never accepted or made peace with his body size. "Hervé's biggest difficulty was being trapped in a body that wasn't doing him any good," she told PEOPLE.
The actor suffered a myriad of medical ailments because of his size. With undersized lungs, Hervé almost died in 1992 after he got pneumonia and a series of minor strokes. He also suffered from an ulcer and a spastic colon.
Apart from those medical issues, Hervé's exterior remained small while his internal organs developed normally. Over the years it started crowding his chest cavity which eventually made it impossible for Hervé to breathe lying down.
All these medical conditions also left the actor in constant pain until he decided to put an end to it on September 4, 1993.
The previous evening Hervé and his girlfriend, Kathy Self, dined with friends after they saw "The Fugitive" in Los Angeles. When they returned to his North Hollywood home, Kathy went to bed. Instead of joining Kathy, Hervé walked out onto the back patio and shot himself in the chest with a gun.
Hervé left a suicide note wherein he said that he "loved everybody," but the pain from his proportionate dwarfism has become too much to bear.
A week before the actor's death, he sat down with Sacha Gervasi, a journalist who worked in London for an interview that stretched over several days. About a week after Sacha returned to London with over 12 hours' worth of time with Hervé, his girlfriend called with the sad news of his suicide.
"I spontaneously got incredibly emotional. I started listening back to the tapes, and I realized that he knew he was going to do it, Sacha told Vanity Fair. "For some random reason, he just grabbed onto whatever journalist passed by and poured his guts out to me in literally the final week of his life. He'd entrusted me with his story and, in effect, I was his suicide note."
In more recent years the Roloff family from the reality show, "Little People, Big World" helped people get a glimpse into the world of others with dwarfism.
Tori and Zach Roloff welcomed their first child, Jackson in 2017. While Jackson has dwarfism like his father, Zach became concerned about his son's formative years already having been through them himself.
During an interview, Zach Roloff shared his concerns and some of the issues he faced growing up.
The National Suicide Prevention Lifeline is 1-800-273-8255. Other international suicide helplines can be found at befrienders.org.
Please fill in your e-mail so we can share with you our top stories!