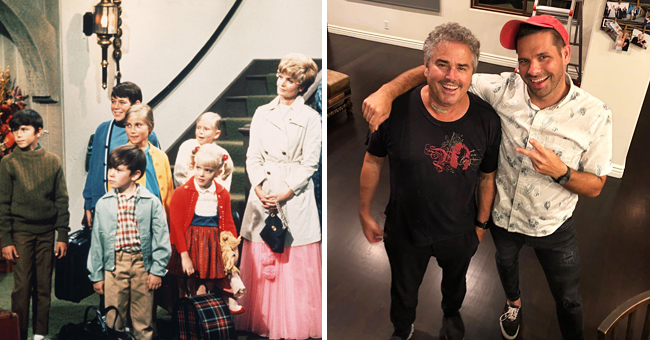 Getty images // Instagram.com/christopherknightbrands
Christopher Knight Shares New Photo Taken inside the Renovated 'Brady Bunch' House

When HGTV outbid Lance Bass for the actual house used for exterior shots on "The Brady Bunch" in 2018 and announced the show "A Very Brady Renovation" fans were ecstatic. All their favorite actors would be reuniting again.
"A Very Brady Renovation" assembled all the remaining Brady siblings to restoring the home to its former glory. The team even redid the inside of the home to appear like the set of the house on the show.
Amongst those who returned were Maureen McCormick, Eve Plumb, Susan Olsen, Mike Lookinland, Christopher Knight, and Barry Williams. The project coincided with the 50th anniversary of the show.
With the project finally done, HGTV announcing "A Very Brady Contest," for one lucky fan to "live like a Brady" for six nights at the iconic Brady Bunch house. Fans have been dying for a sneak peek at the restored home to see if it really is exactly like the original 1970s Brady home.
So when Christopher Knight took to Instagram three days ago to share a pic of himself and HGTV hosts Jason Pickens inside the home, fans were ecstatic. Christopher himself smiled excitedly at the camera.
"Look who popped in for dinner last night, one of our favorites HGTV hosts @thejpickens! He's also on the team at @verybradyrenovation. If you can tell by the ladder in the background we are doing some renovation of our own," revealed Christopher in the caption.
Fans were super impressed with how good the house looked. They flooded the comments section and the post garnered over six hundred likes.
One fan commented, "I love those floors brah!!"
Another agreed that the house looked stunning and even begged to have the competition be opened to Canadians. The fan wrote:
"The reno is amazing but you should run a Brady Contest up in Canada. There are lots and lots of brady fans in Canada and they would jump at the chance to stay in the Brady house."
And for any fans of Susan Olsen, who played Cindy, she has confirmed that the house finally matches the interior from the set.
Fans will remember that Susan had once said in an interview that when she was a nine-year-old kid on she had questioned producers about the house.
She claims that she wanted to know why the ranch-style exterior didn't match the two-story interior. However, at the time producers promised her that the inside of the house looked exactly the same as the set.
"Finally, my mother said, 'they're just trying to shut you up, honey,'" she revealed.
Please fill in your e-mail so we can share with you our top stories!